Interior Line Painting in Scarborough (Toronto East)
EverLine Coatings and Services happily offers a number of interior line painting services to Canadian businesses, whether you need safety and production flow floor markings, plant and warehouse forklift traffic line markings. We are capable of helping you implement a new interior line layout suitable for your business. All of our experienced interior line painting contractors can complete your project with the utmost professionalism.
About our Scarborough Interior Line Painting Services
EverLine is one of Canada's most experienced interior line painting companies in Canada, and we are confident we can handle any interior floor marking job you have. Our professional painting crew members have years of experience completing various safety, production, and forklift traffic markings projects. Depending on your specific business and the project landscape, we can customize your floor marking project. 
We will always provide you with the best materials, accommodate your schedule and ensure that you are left with a durable and beautiful end product. At EverLine, we have multiple in-house interior line painting experts that allow us to work multiple locations and complete jobs promptly and efficiently. We always want to ensure that we have as minimal of an impact on your daily operations as possible. This is why we offer both weekend and overnight operations.
At EverLine, we have an unrelenting focus on quality. It is this focus that allows us to stand out from our competition. Our CORE quality system is one of the ways we ensure that quality is systemized. The CORE abbreviation stands for Clear scope, Operations reports, Reach out and Evaluate. Implementing and adhering to this system ensures that our clients are always involved in the project we are completing and that they are capable of monitoring quality throughout the steps of our painting process.
It is just as important to us as it is to you that your business operations are not disrupted by your interior line marking project. Because of this, we offer flexible work schedules so we can complete the project without impacting your regular business operations. We can work with you to arrange to complete your interior line painting project either overnight or on the weekend to best suit your business operations.
In order to adhere to our quality standards, we only use durable products to make sure your line painting project lasts. With that being said, we always balance durability with affordability. We choose to take a value-focused approach to all of our interior line painting projects. We take pride in providing quality services at affordable prices, and we're sure our happy customers agree.
We are the Interior Line Painting Experts
Safety, stock location, and plant/warehouse forklift traffic line-markings are a very important part of any operational production or distribution facility. We have completed various safety and production flow floor markings using paint to epoxy and even urethane. Our experience in many different facilities allows us to be able to customize your interior floor marking project. We are able to help you mark out different walkways or sidewalks, provide stencilling where necessary, mark areas for production and even storage as well, and so much more. Our in-house crew allows us to have more open availability to complete your project without disrupting your day or night operations. We always use the most innovative techniques when it comes to application and strive to go beyond our client's expectations.
In order to prepare for your line painting services, there are a few steps you should take before our crews arrive at your facility. Please ensure that your floor is completely free from debris and objects are cleared from the painting surface. If you require assistance, we offer pressure washing and sweeping services to help you prepare for the painting project. Additionally, it is important to notify any building users that a painting service will occur. This ensures a safe working environment for our crews and helps to improve the efficiency of our services. Finally, you will need to wait until the paint dries before allowing anyone to walk or drive in the facility, as this could ruin your painting project.
Interior Line Painting Pricing
From our professional parking lot line painting services to our interior line painting and commercial painting services, all EverLine services are priced on a per-job basis. Depending on the volume, difficulty, traffic, and materials, the prices of our services will fluctuate. This method of pricing allows us to provide the most affordable pricing possible to each of our customers. Don't worry about paying standard pricing. We assess your unique project to determine a great price just for you. Contact us to get a free quote today!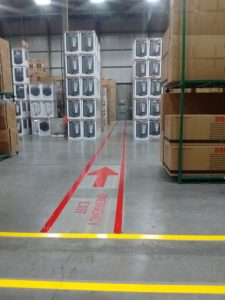 Scarborough (Toronto East) EverLine Office
Phone: (416) 358-5850
Address:
51 Danjohn Crescent
Scarborough, ON, M1V 3N2
Contacts:
General Manager – Kovi Sriskanda
Surrounding Communities Serviced
Scarborough
West Hill
Port Union
Golden Mile
Agincourt
Rouge
Clairlea
Milliken