Infrared vs Traditional Pothole Repair - Which is Best for Your Saskatoon Property?
You might be familiar with the old method of repairing potholes in Saskatoon, where workers do something not much more sophisticated than removing the old bits of broken asphalt and pouring in something new. There are many problems with this method, which the infrared repair process addresses. 
It leaves no seams, and it restores some of the original condition of the old asphalt, making repeated potholes in this particular spot less likely. When it comes to infrared vs traditional pothole repair, there isn't much competition. Here is how you'll benefit if you use this new asphalt repair method on your Saskatoon property. 
Level and Seamless Repair
When you use traditional asphalt repair methods, there is a seam between the new and old asphalt. They cannot forge together the way that they do with infrared repair. This new method heats up the old asphalt, allowing it to mix in with the new. Without a seam, the repair is more durable and will last for longer. It is also simple to get a level, beautiful repair surface with infrared repair.
Aesthetic Repairs are Possible
Speaking of beautiful, if you have patterned or textured asphalt, the infrared process will protect it. First, the original asphalt will not be burned in the process, so you do not need to worry about leaving behind black marks that ruin the look of your asphalt surface. Second, this patching process can replicate the patterns in your existing asphalt, creating a better look than traditional methods can.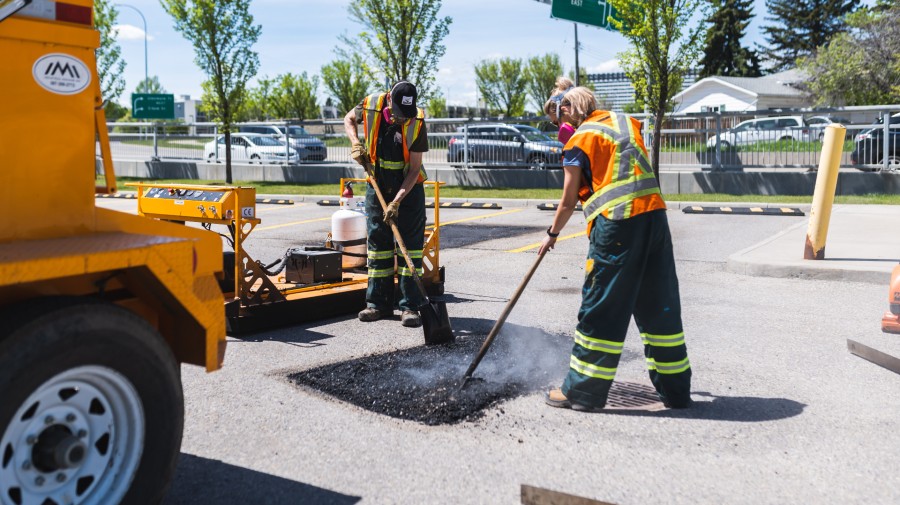 Streamlined Repairs
While you might think that, as a new technology that produces better quality results, infrared pothole repair would be slower than traditional methods, it is actually faster. It does not take long for the infrared technology to heat up the existing asphalt, and the whole process is very quick and takes three people less than 20 minutes.
Usable Faster
Not only is the actual repair process done sooner, but the new asphalt surface will be safe to drive on faster than with traditional repair. It can take as little as 20 to 30 minutes for the new and old asphalt to have solidified and cooled off to their stable temperature. This can help minimize the downtime on your property and make repairs more convenient for your schedule. 
Environmental Impact
Asphalt is not exactly known as an environmentally friendly material, but we make it a little easier on the environment. This process allows us to recycle most of the existing asphalt instead of shoveling it out of the pothole and tossing it in a landfill. Infrared repairs reduce waste by up to 95%.
Cost-Effective
Infrared repair actually costs less than traditional asphalt repair. There is just no reason not to choose infrared instead!
 Ready to fix up the potholes on your property? Get a free quote for infrared pothole repair today from Saskatoon's EverLine Coatings and Services.  
Phone: (306) 683-3478
Address:
3330 Wells Ave.
Saskatoon, SK S7K 5W6
Contacts:
General Manager – Nigel Baxter