Asphalt Sealcoating in Saskatoon
EverLine Coatings provides asphalt sealcoating services that allow Saskatoon property owners and managers to maximize the life of their pavement surfaces.
EverLine's Asphalt Sealcoating Services
As a Saskatoon, Saskatchewan commercial property owner or manager, you want to maintain your property to the highest standards. That includes all aspects of the exterior, especially your parking lot.
Your parking lot is a significant asset, but if you don't maintain your pavement properly, you can end up spending tens of thousands of dollars on resurfacing. One of the best ways to protect your parking lot is with asphalt sealcoating. EverLine Coatings is unmatched in expertise when it comes to asphalt sealcoating for Saskatoon businesses.
Protect Your Saskatoon Parking Lot with Asphalt Sealcoating
To sealcoat, EverLine Coatings sprays an asphalt-based waterproofing material over the surface of your driveway or parking lot. This asphalt emulsion seals cracks and prevents water seepage, which can cause potholes and cracks that reduce your asphalt's lifespan.
Your parking lot or driveway is often visitors' first impression of your property! Asphalt sealcoating increases its visual appeal, which helps you attract customers.
The benefits of asphalt and driveway sealcoating include:
Slows pavement deterioration
Adds traction
Creates a crisp, like-new, appearance
Extends the life of your parking lot
Adds a slip-resistant surface
Is more cost-effective than replacing pavement
Resists UV damage
Adds a protective layer to prevent damage from oil and moisture
EverLine Coatings – Your Saskatoon Asphalt Sealcoating Experts
Saskatoon is a friendly, affordable city and a fantastic place to own a business. But it also has very cold winters, which can wreak havoc on your parking lot surface.
The team at EverLine Coatings is strongly committed to the success of your property! We understand that your pavement represents a significant asset, so we are focused on solutions that help it last as long as possible. In addition, all of our professionals have undergone rigorous training so they can provide you with superior asphalt sealcoating and driveway sealcoating results. Ready to get started? Request a free estimate today!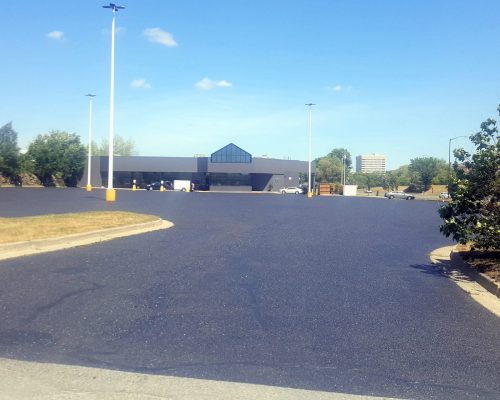 Phone: (306) 683-3478
Address:
3330 Wells Ave.
Saskatoon, SK S7K 5W6
Contacts:
General Manager – Nigel Baxter