Professional Parking Lot Services from EverLine Coatings
Maintaining a well-functioning and attractive parking lot in Moose Jaw, SK can help you create a favorable first impression with both tourists and locals. In order to guarantee precise and clear lines between parking bays, EverLine Coatings offers a dependable parking lot line painting service.
Dealing with fissures, cracks, and potholes brought on by adverse weather requires regular asphalt repair. EverLine Coatings meticulously plans each repair operation to provide the least amount of disruption to busy property managers. We also offer sealcoating and other asphalt maintenance services.
Our fundamental objective in all we do is to keep things simple for our clients. As a property manager, you already have a lot on your plate — we don't want to add anything else. We therefore ensure that your project is well-planned so you may concentrate on more important duties.
Moose Jaw Parking Lot Line Painting

Our parking lot line striping service keeps parking lots looking good and easy to use. We ensure a high-quality finish by carefully removing old markings and painting fresh lines.
Compared to other manufacturers, our TBL Durables traffic paint lasts longer. When you choose to work with EverLine Coatings, you can save money by not having to redo the stripes on your parking lot as frequently.
Parking lot repair is another area of expertise for EverLine Coatings. To patch potholes, we employ an infrared asphalt restoration method. In order for the old asphalt to easily mix with the fresh material, we heat the area. The end result is an extremely smooth, long-lasting, and high-quality surface that is pleasant to drive and walk on. Finally, we remove any loose aggregate to leave a finish of the highest caliber.
Our Asphalt Maintenance Work
Before
After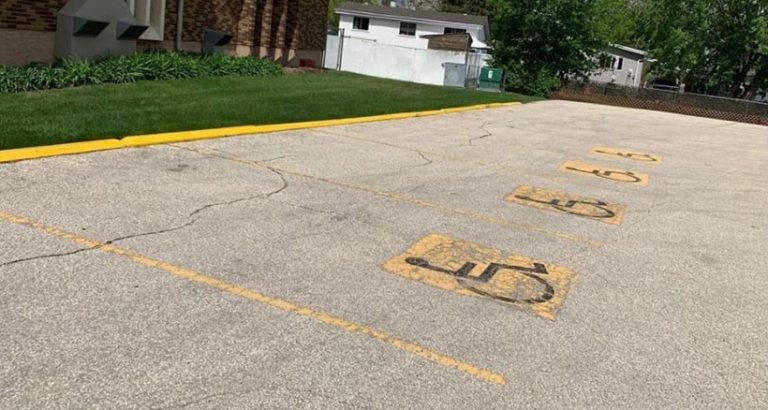 Asphalt Sealcoating in Moose Jaw
Another service we offer to safeguard the pavement surface and stop cracks from forming is asphalt sealcoating. Our asphalt-based coating offers a smoother driving surface and can endure high temperatures. After repairing and cleaning the surface, we apply two coats of sealant to improve its quality and longevity.
Use EverLine Coatings and Services For Moose Jaw Parking Lot Repairs
Moose Jaw is known as Canada's Friendly City. This town plays host to many cultural and sporting events, including the National Wheelchair Curling Championships and the annual Moose Jaw Band and Choral Festival, which has been running for more than 70 years. Parking lot repair services are essential to keep the city's parking lots in good condition year after year, especially in light of the freezing winter weather. For a free estimate on parking lot line painting or asphalt repair in Moose Jaw, get in touch with EverLine Coatings and Services. You can concentrate on managing your property and running your business by letting us handle the upkeep and repairs to your parking lot. Get a free estimate from us right away!
Phone: (306) 683-3478
Address:
3330 Wells Ave.
Saskatoon, SK S7K 5W6
Contacts:
General Manager – Nigel Baxter