EverLine's Line Painting & Asphalt Repair Services
Parking lots that are riddled with potholes or have faded, hard-to-read traffic markings are not safe places for employees or visitors. As a responsible property owner in Martensville, Saskatoon, you want your business to always be a safe and welcoming place. That's why clearly marked and smoothly paved parking lots and property exteriors are crucial to running a good business. Turn to EverLine Coatings for all your parking lot asphalt repair or line painting needs!
Parking Lot Line Painting
EverLine Coatings is here to make your Martensville pavement smooth, safe, and easy to navigate with parking lot line painting. We can give your old, worn-out line markings a refresh or paint completely new ones for you. And we are fully committed to aesthetic excellence — we always black out any old markings to ensure your new lines are clean and bright. And if you need parking lot line painting for crosswalks, arrows, bicycle lanes, or accessible parking stalls, EverLine Coatings can provide those as well.

TBL Durables is a high-quality product exclusively licensed through EverLine Coatings and Services. It's 3 to 4 times more durable than regular traffic paint, increasing your ROI, and it's ten times more eco-friendly than other leading products. Rest assured that your line painting will stand the test of time and those frigid Martensville winters.
Asphalt repair is imperative to maintaining the safety of your Martensville property. It prevents vehicle damage, structural damage, and pedestrian hazards from occurring — not to mention, unsightly potholes just don't look very good.
As part of our parking lot repair services, Martensville's EverLine Coatings uses a proprietary infrared asphalt repair process to heat the asphalt to about 300-350 degrees, penetrating the surface layer of pavement and melting it down to mix with the new asphalt. Infrared asphalt repair has many advantages over conventional methods:
The asphalt is ready as soon as 30 minutes after repairs are complete
It creates a watertight seal around repair spots
The repair leaves little or no waste material
Less cost and less labor-intensive than conventional methods
Our Asphalt Maintenance Work
Before
After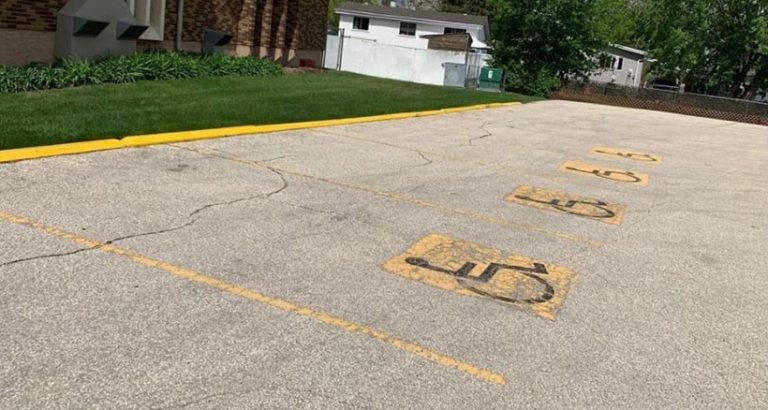 EverLine Coatings also provides asphalt sealcoating services, which will make your asphalt longer-lasting and keep it professional-looking. We use a spray-on asphalt-based waterproof material to slow the deterioration of pavement, increase grip and comfort while riding or driving, save you money on repairs, and give a "like-new" look to your asphalt.
Martensville EverLine Coatings' Parking Lot Line Painting and Asphalt Repair Is Second to None
As a property owner in Martensville — one of Western Canada's fastest-growing cities — you want your business to look good and be safe. EverLine Coatings can give you the thorough, reliable, cost-effective parking lot repair services you need to make that a reality. We know you're juggling a lot, so we make it easy by taking care of project coordination for you.
Ready for some quality parking lot repair in Martensville? Request a quote from EverLine Coatings today!
Phone: (306) 683-3478
Address:
3330 Wells Ave.
Saskatoon, SK S7K 5W6
Contacts:
General Manager – Nigel Baxter