Interior Line Painting in Saskatoon
At EverLine Coatings office in Saskatoon we have a number of crews who specialize in interior line painting. We offer precise and durable interior line painting services.
About our Saskatoon Interior Line Painting Services
At EverLine Coatings we know having accurate and durable line markings in your warehouse or commercial building is important for ensuring safety. We offer a wide array of interior line painting services and can handle any interior line painting job you need done. We have experienced line painters who will get the job done quickly and will get it done right. 
We have successfully completed a wide variety of production floor marking projects in a diverse range of different facilities. This gives us the experience to provide the proper floor marking services for your business. At EverLine we always ensure that we provide your business with the right services and materials so we can provide you with the highest quality job and within your budget.
At EverLine Coatings and Services we have the most experienced and highly trained interior line painting crews in Canada. We deliver precise and durable line painting services. In addition to delivering the most high quality interior line painting services in Canada we also strive for unmatched customer service. Our commitment to providing unmatched service is proven with our off hours line painting crews. We know you can't disrupt your business with interior line painting crews. This is why we offer overnight and off hours line painting services, our crews will come in and complete your line painting project while your business is closed or off hours.
Part of what makes our interior line painting services stand out from our competitors is our commitment to quality. This is why our line painting crews only use high quality products that deliver unmatched durability. When we complete an interior line painting project you can be assured it will look great and last long.
We are the Interior Line Painting Experts
At EverLine we understand that floor markings and plant/warehouse forklift traffic line markings are a very important part of ensuring safety and efficient production. We have experience completing a wide variety interior line painting projects using products ranging from paint to epoxy to urethane's. Our exceptional experience providing interior line painting projects allows us to provide customized solutions for all types of facilities and surfaces. We will make sure that we provide your business with the appropriate products based on your budget, provide an application window that works for your business and will meet your durability expectations. Our in house multi crew setup allows us to work quickly and efficiently to ensure minimal disruptions to night or day operations.
Expecting one of our interior line painting crews at your business in the near future? Well there are a few steps you can take to ensure our crew can deliver a high quality and durable project. First please that the surface we will be painting is clean and free of any obstacles or debris. Next please place notices on your property that our crews are performing work, this will help ensure their safety.
Interior Line Painting Pricing
At EverLine we do not offer flat pricing for our interior line painting projects. Instead we do all of our pricing on a per job basis. This is because pricing can fluctuate based on the volume, difficulty, traffic and materials being used on site. In order to provide the best value for your business we will learn all the details about your upcoming project before providing a quote.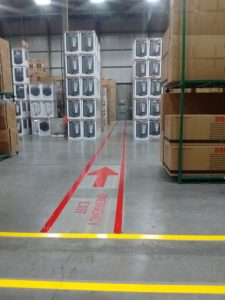 Phone: (306) 717-9372
Address:
510 6th Street East
Saskatoon, SK S7H 1C1
Contacts:
General Manager – Nigel Baxter
Surrounding Communities Serviced
Regina
Martensville
Warman
Prince Albert
North Battleford
Humbolt