Warehouse Floor Markings & Interior Line Painting in Saskatoon
Warehouse floor markings are for more than parking spots. Get safety information, branding and more on your floor with warehouse floor markings in Saskatoon.
Saskatoon's Warehouse Floor Marking Experts: EverLine Coatings and Services
In your warehouse, retail space, or other property, warehouse floor marking can be a significant advantage with benefits including safety and efficiency. If you own an indoor commercial space, consider line marking to make it better! At EverLine Coatings, we have a team of warehouse floor marking experts to serve your Saskatoon, Saskatchewan property.
How Warehouse Floor Marking Can Benefit Your Property
Adding line marking to your property in Saskatoon can benefit your business in many ways including:
Directing traffic, including vehicle, pedestrian and equipment, for increased safety.
Improving efficiency by dedicating spots for equipment and creating lanes.
Allowing for sports and indoor games to be played by providing reference lines.
Improving the value of the property and increasing its potential uses.
Making heavily-trafficked areas easier to manage and supervise.
Safety information
Branding and promotion
We have various interior paint options available, and we can help you sort through the products to choose the best one for your purposes. Our paint options have different performances, lifespans, application times and more. 
Our professionals care about the safety and efficiency of your property and want to help you find the solution that is truly right for you.
Choose EverLine Coatings' Warehouse Floor Markings for Your Saskatoon Property
The team at EverLine Coatings is dedicated to offering high-quality warehouse floor marking that will fulfill your needs and improve the use of your property. We can help every type of space, from retail stores to schools, warehouses, and industrial facilities.
Contact us to discuss your needs for warehouse floor markings in Saskatoon.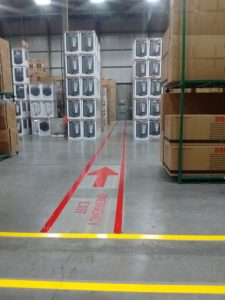 Phone: (306) 683-3478
Address:
3330 Wells Ave.
Saskatoon, SK S7K 5W6
Contacts:
General Manager – Nigel Baxter