Premier Asphalt Sealcoating in the Richmond, Surrey, and Delta Area
Do you want to make a great impression with a smooth parking lot? Contact EverLine Richmond, Surrey, and Delta to discuss our asphalt sealcoating services.
Richmond, Surrey, and Delta are all great places to be a business owner, whether you're located in chilled-out, leafy Delta or vibrant, coastal Richmond. However, this stunning part of British Columbia has high standards, and a cracked or uneven parking lot can really drive people away. If you want to make a good impression with a well-maintained, uniform parking lot, EverLine's asphalt sealcoating services are ideal for you.
Invest In Your Commercial Parking Lot With Asphalt Sealcoating
There's a lot to think about as a Richmond, Surrey, or Delta business owner, and often your parking lot isn't top of your list. Therefore, you might be wondering what asphalt sealcoating is, and why it's important.
Essentially, sealcoating is an extra layer on your asphalt. This makes the pavement look even and uniform, greatly improving its appeal to potential clients and customers. It also prevents your pavement from hardening and crumbling over time, which can shorten the life of your pavement and cost you a lot in repairs. Your customers will also benefit from increased grip and comfort while driving or cycling, which will give them a great impression of your business and may even reduce the risk of accidents. It stops salt, moisture, and chemicals from entering and damaging the pavement, and is a cost-effective way of resurfacing asphalt.
Why Choose EverLine For Your Asphalt Sealcoating
At EverLine, we begin every project by building out a detailed specification to ensure you're thrilled with your results. We use the best products, which alongside our deep technical knowledge and cutting-edge techniques, ensure your project is carried out to the highest standard. Our sealcoating products are designed to withstand your hot summers and freezing winters, and we'll never dilute them to save money. We also offer crack repair services and can clean and repair your asphalt before we begin, ensuring that your surfaces are as smooth as possible. We promise to make communication easy and reduce disruption to your business, allowing you to focus on what's important.
If you're looking for regular, proactive parking lot maintenance for your Richmond, Surrey, or Delta business, our Preventative Pavement Maintenance Program is for you. It is designed to double the life of your pavement and includes various services including asphalt sealcoating. Get in touch with EverLine for a unique quote.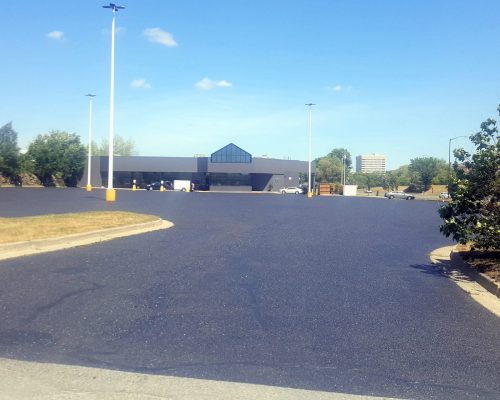 Richmond / Surrey / Delta EverLine Office
Serving the Greater Richmond / Surrey / Delta area, including: