Superior Line Painting & Pavement Maintenance in Richmond / Surrey / Delta
EverLine Coatings and Services office in Richmond / Surrey / Delta provides a full suite of line painting and pavement maintenance services. We specialize in services such as line painting, asphalt sealing, sweeping, specialty coating, epoxy flooring, and more.
Our clients save 20-30% over 3 years with our exclusive TBL traffic paint product.
From clear markings to slip-resistant coatings, we help you keep people safe.
Properties that look great create more value for employees and customers.
EverLine Coatings Removes the Stress From Property Maintenance
Precision line painting craftsmanship using long-lasting products.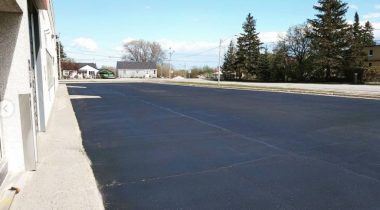 EverLine Makes It Simple To Keep Your Property Performing
Before
After
EverLine Coatings can help transform your paved surfaces! Request a free quote and get a your customized digital proposal. All of our proposals come with a personal video walking you through all the details of your scope of work. This means you will know what to expect before your project begins!
More About Your Richmond / Surrey / Delta EverLine Coatings
EverLine is confident in its position as a leading company within its industry. The EverLine team consists of over 100 highly skilled individuals who collaborate and share their expertise, ensuring exceptional service for their valued clients. Additionally, they are proud to offer a premium line of TBL durable products, exclusively available to those seeking long-lasting solutions.
Before joining EverLine Coatings and Services, Ilia accumulated a wealth of experience in the construction industry, holding various positions including Installer, Foreman, Site Superintendent, and small business owner over a span of nearly 20 years. Ilia is a graduate of the Financial Management program at BCIT and remains dedicated to professional growth through ongoing education and coursework. Ilia passion lies in overseeing projects and proactively maintaining clients' properties to minimize the risk of emergency situations.
Ilia is highly dedicated and driven, constantly striving for excellence in all that he does. He has a passion for work and continuously seeks new opportunities for growth and development. His goal is to consistently exceed the expectations of his clients and to provide guidance and mentorship to his team, enabling them to reach their full potential.
Ilia has a deep appreciation for the Surrey Delta and Richmond regions, known for their abundant sunshine and attractive climate. These cities are at the forefront of growth in Canada, boasting robust infrastructure and providing a wealth of opportunities for business development, career advancement, and family life.
Ilia Oussov – Owner/Operator
Call or fill out the form to get a detailed scope of work, including a personalized video explaining exactly what work will be completed.
We'll make sure your project is coordinated properly with no hassle, so you can focus on other tasks.
We'll complete the work. After your project is done, you'll receive a detailed report with before and after photos.
"Very Good Customer Service"
"I recently commissioned the painting of a pedestrian walkway along one of the private streets within our bare land condominium community. The crew contacted me prior to doing the work with some questions, and they shared photos with suggested options. We agreed upon some changes to the original plan. It was a very good customer experience and the final product is great! I will definitely contact EverLine for future line painting work in the community."

Ivan R.
EverLine Was Prompt & Professional
"EverLine was excellent to work with. I had new lines and 4 new handicap spaces painted into the 4 visitor parking lots at our condo. The outside parking lots and walkways look new, and our residents are very happy. We had them clean our very large underground parking lot. This large coordination was an actual feat. EverLine was prompt, professional and did an amazing clean up! I would highly recommend this company to anyone."

Tudor Manager
Richmond / Surrey / Delta EverLine Office
Serving the Greater Richmond / Surrey / Delta area, including: