At EverLine Coatings and Services, we are proud to offer our professional power washing services to our clients across Canada. If your property is starting to look dingy or it just isn't shining the way it used to, chances are it is in need of our power washing services!
Let's face it, Canadian weather and other circumstances can leave a layer of unwanted dirt on your property. Whether it is salt, gravel, dirt left behind from winter in your parking lot, or dirt that has settled on your building over the years, sometimes things start to lose their shine. We have the ability to clean wood, brick, metal, concrete, and asphalt surfaces. We have established ourselves as offering the best power washing services in Canada!
Before and After Examples of Our Power Washing Services
To give you an idea of how big of a difference professional power washers can make on your property with our power washing services, we have some incredible before, after, and during power washing examples!
Using a Commercial Pressure Washer on Wood
Wood can be a tricky surface to clean with a commercial pressure washer. Given that it is softer than some other surfaces and the paint can easily be taken off, it requires some careful consideration when cleaning.
At EverLine, our professional pressure washing crews have been trained to tackle projects with ease. We have the right nozzles, pressure settings, and understand the technique needed to safely clean wood surfaces without damaging them.
As seen in the example above, by using the best power washers available, we can easily cut through the dirt and grime on the surface of this wood deck and make it look like new again! There's no reason your property should not look clean, crisp, and well maintained. EverLine's power washing services make it quick and easy for you to make your property look great again.
Pressure Washing Services for Brick Surfaces
Brick surfaces can be tough to clean with an off the shelf pressure washer attached to a garden hose! The spaces between bricks can be stubborn and hold onto dirt and grime. More often than not, washing with cold water and a bit of soap just will not suffice when cleaning a brick surface and will not get it completely clean.
Thanks to EverLine's heated pressure washers and the training our professional pressure washer crews have received, we can cut through any dirt and grime on a brick surface with ease.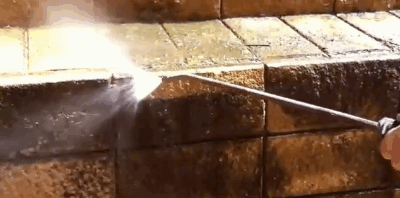 Even textured brick surfaces are an easy task for our commercial pressure washers when using hot water. Take a look at the example above. Isn't it satisfying to watch those bricks being cleaned? Our high pressure washers blast water into every groove on porous and rough surfaces to ensure all of the dirt and grime has been removed.
Here's an interesting example. Sometimes buildings just get dirty as the years go by! There is dirt blowing around in the wind and pollution in the air that can leave a layer of soot on your building and property. Take a look at this historical building as a before and after comparison. Virtually any stone surface can be cleaned with power washing without damaging it when being washed by trained professionals. Think of how much better your building and property could look after using our professional power washing services!
Power Washing Metal Surfaces on Your Property
Generally speaking, metal surfaces are easier to clean than most surfaces but conventional pressure washers still can't clean the surface as well as heated pressure washers can. EverLine uses the best available power washers and we wash metal surfaces on your property with hot water to make them look brand new again.
Whether it is the roof of your building, metal siding, a wall, or even some kind of metal structure like stairs or a ladder, our professional pressure washers can clean the surface and make it shine like the day it was made!
By pressure washing with hot water, things like dirt, grime, rust stains, and even mild surface rust can be removed from metal surfaces. Our professional power washers have the needed training to clean virtually any metal surface and restore it to its former glory!
Power Washing Services for Parking Lots and Concrete Surfaces
Last but not least, our professional power washing crews can easily clean concrete, asphalt, and other paved surfaces on your property. Vehicles can often track dirt and grime onto your property, and people with dirty shoes can too. Over time, your pavement can lose its crisp new look.
With EverLine's power washing services, we can make your concrete look bright and give the asphalt in your parking lot that fresh new blacktop look again with our pressure washing services.
Winter can leave salt, rocks, dirt, and grime behind. Our high pressure washing crews can easily clean the surfaces in your parking lot or parkade to make them look new again! We strategize the best way to clean so that we are cleaning efficiently and considering drainage as we move along. Don't put up with a dingy looking parking lot, call EverLine to clean it up!
EverLine Coatings and Services Offers the Best Power Washing Services in Canada
Well, there you have it! We use the industry's best commercial pressure washers and wash with hot water to cut through the dirt and grime that is preventing your property from looking its very best. Our professional pressure washer crews have been trained with our heated pressure washer equipment to ensure nothing but quality results with every project that we complete. Our crews are detail focused and will not stop working until everything you want to be cleaned is looking fantastic again!
If you would like to receive a quote on your upcoming power washing project, please contact your local EverLine office today. One of our power washing technicians would be happy to assess the services you require and provide you with a quote. Your property will look great again in no time! We'll show you why we are considered one of the best pressure washing companies in Canada.