When your parking lot needs sweeping services, turn to EverLine Coatings. We offer our parking lot sweeping services throughout Canada for all commercial properties.
About our Parking Lot Sweeping Services
At EverLine Coatings, we are able to provide parking lot sweeping services on short notice and can complete multiple parking lots in a single night. If you need your parking lot swept immediately, we are available for efficient service.
We ensure parking lot curbs and edges of buildings are free of debris, leaving your entire parking area clean. Not only do we provide sweeping services for outdoor parking lots, but we also have the equipment to sweep parking garages and parkades. For more information on our parking lot sweeping services please contact us.
We are the Parking Lot Sweeping Experts
We have been providing parking lot sweeping and
complete pavement maintenance services
to a wide variety of businesses all throughout Canada for decades. No matter the parking lot, parkade, or parking garage and no matter the mess, we have seen it before. In addition to our experience, we are also the best equipped and most highly trained professionals out there. We have specialized equipment designed to deliver high quality sweeping services for parking lots, parking garages, and parkades. Our professionals know how to get any sweeping job done in an efficient and timely manner. Our satisfied client base in Canada has proven that we know how to deliver exceptional parking lot sweeping services.
Our Pavement Maintenance Work
Before
After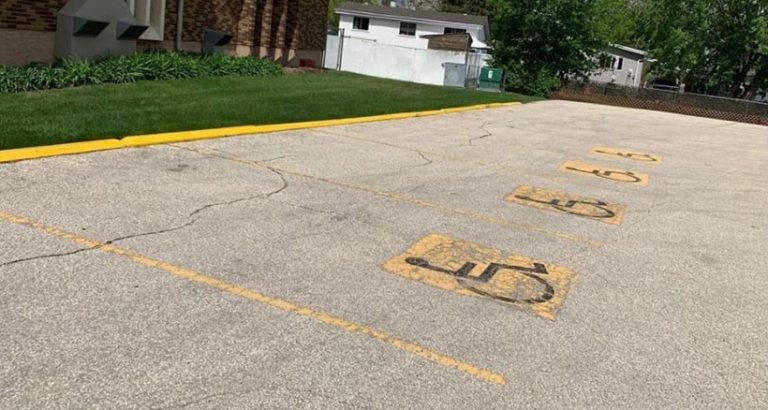 How to Prepare Your Parking Lot For Sweeping
In order to prepare your parking lot, parking garage or parkade for our sweeping services, your business will need to complete a few steps before we arrive. Please ensure that all vehicles have been removed from the parking lot, and that any obstacles have also been removed from the parking surface. It is also important for you to notify anyone who uses the parking lot that sweeping services are taking place to ensure our crew's safety.
Parking Lot Sweeping Pricing
Our pricing is based on a per-job basis that is dependent on the volume, difficulty, traffic and materials being used on site. The amount of debris, gravel and sand that we will need to remove from the parking lot will also affect our quote. At EverLine, we make a commitment to understand each parking lot sweeping project so we can work within your budget, and give you the best value. If you require a quote on a parking lot sweeping project, please contact us for more details.
We bring the same highly experienced, well equipped, multi crew approach to our power sweeping programs as we use to build our line painting service. Our success starts with client communication to ensure we are familiar with the site (retail store, mall etc). We match expectations with scope of work to ensure the parking lot, curbs, and edges of buildings are free of debris.
We have an unmatched commitment to quality and ensure satisfaction through several key elements. Our quality is systemized, we are constantly innovating, and we always answer the call.