Asphalt Repair & Sealcoating
Create smooth, long-lasting pavement surfaces free of cracks and potholes with asphalt repair and sealcoating services from EverLine Coatings.
Reliable Asphalt Repair and Lasting Sealcoating Services from EverLine Coatings
You already know that cracked, damaged asphalt isn't a "good look" for your property. However, as a property manager, you may feel like you're already juggling too many other tasks to possibly think about adding pavement maintenance to your to-do list.
At EverLine Coatings and Services, we know that your pavement is a significant asset, so keeping it smooth, clean, and attractive is important. That's why we've designed long-term solutions, like our asphalt repair and sealcoating services, to help your pavement produce the best return on investment possible!
Problems with Damaged Asphalt
Cracked asphalt and potholes aren't just unpleasant to look at—it can cause other troublesome problems for your property, such as:
Liability Issues—Did you know if a vehicle hits a pothole on your property and needs to be repaired, you could be held liable for the damage? Worse, if a patron trips or falls because of your damaged pavement, you could be responsible for their medical bills.
Further Damage—Have a few small cracks in your asphalt? When left untreated, rainwater may seep through the cracks, freeze, and thaw, leaving a cavity. When a vehicle drives over this concave surface, the asphalt crumbles, creating a pothole.
Property Value—Do you realize your unsightly pavement may cost your business thousands of dollars? Hazardous pavement not only reduces the value of your property but can also reduce foot traffic, in-store sales, and customer loyalty.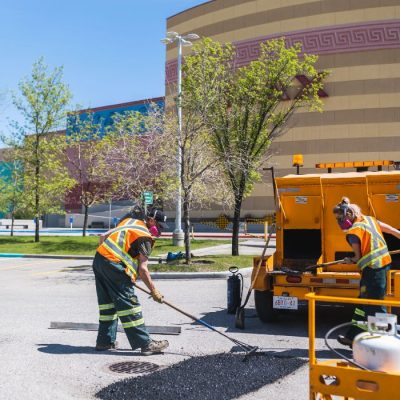 High-Quality Asphalt Repair for Safe, Attractive Pavement
We offer several asphalt repair services designed for your unique needs. Whether you need to fill in a parking lot pothole or want to spruce up your surfaces with asphalt-based sealcoating—we've got you covered!
Choose from these popular asphalt repair services to get started. After your project, we always do a complete evaluation to ensure you're completely satisfied with our work!
Canada has a harsh climate, which can be tough on pavement. In fact, pooling water, fluctuating temperatures, and excessive heat are the most common reasons potholes form, in addition to heavy traffic and general wear.
Our proprietary infrared asphalt repair is the quickest, most straightforward way to fix potholes. This process uses infrared heat to melt, remold, and compact your current asphalt to achieve a smooth, watertight surface, and offers these unique benefits:
Fast Process: Damaged pavement can be repaired with three team members, one truck, and one asphalt compactor in less than 30 minutes.
Great Value: This process mixes your old pavement with the new asphalt, so you'll save money on materials, equipment, and labour and produce up to 95% less waste.
Effective Solution: This technique creates thermal bonding with the surrounding pavement to prevent future potholes.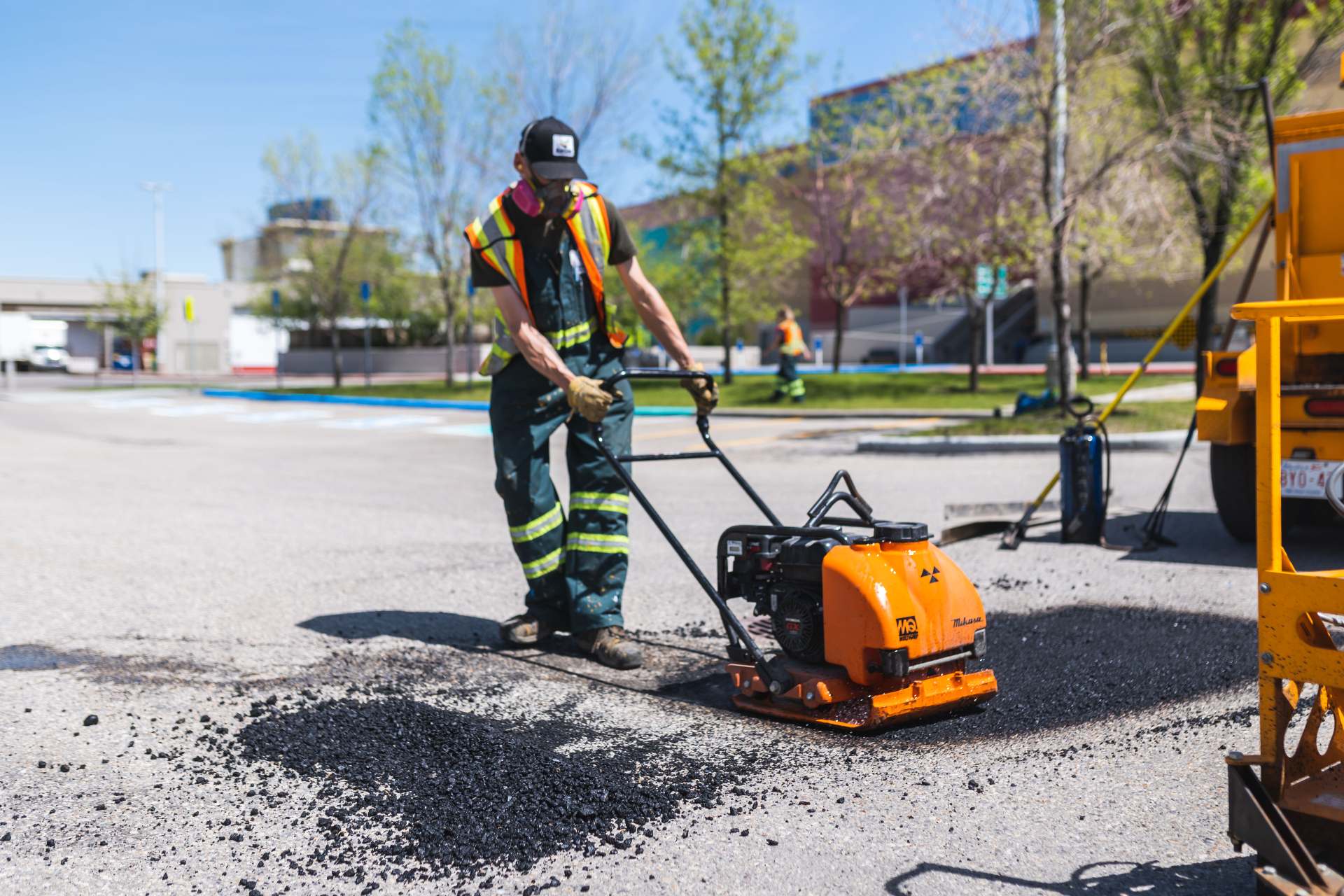 When sun, water, or chemicals are introduced to your pavement, they slowly degrade the asphalt, making it brittle. Our asphalt-based sealant—a product applied to the surface of your pavement—is the best way to combat these elements and makes your pavement more:
Attractive: Sealcoating provides a crisp, smooth, uniform coat over the pavement to add curb appeal, especially when cracks, crevices, or potholes are filled in beforehand.
Durable: Sealcoating extends the lifespan of your pavement, so even when external forces like rain, snow, and oil meet your asphalt, the surface won't harden or crumble.
Affordable: Regular sealcoating will double the lifespan of your pavement, so you won't have to spend thousands of dollars on asphalt repairs.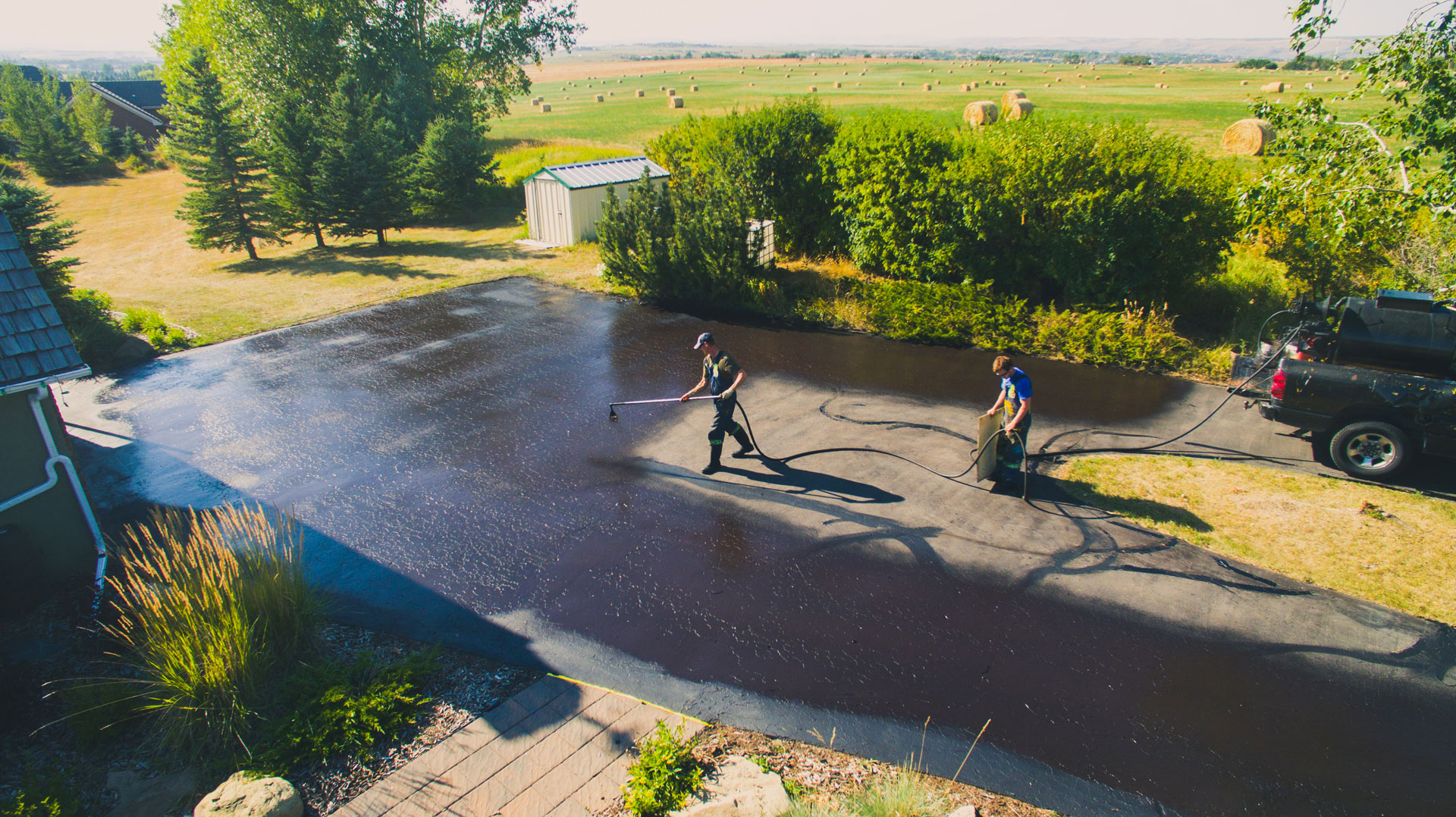 Did you know that 75% of untreated pavement cracks lead to potholes? EverLine Coatings follows this reliable asphalt crack-filling process as a standalone service or as preparation for sealcoating:
First, we remove dirt, dust, and debris and heat the pavement with a concentrated flame to ensure the surface is completely dry.
Next, we apply an edge-to-edge bond with the asphalt filler to ensure a watertight seal that will prevent future deterioration.
Finally, we let the rubberized material cool down, and then your customers, employees, and patrons can begin driving on your pavement just 6–8 hours later. If you need the parking lot opened quickly, we can apply a special product to make it traffic-ready immediately.
Our Asphalt Sealcoating Work
Before
After
Treat Your Pavement Like an Asset with Asphalt Repair and Sealcoating from EverLine Coatings
We are fully committed to the success of your property, which is why we offer the Preventative Pavement Maintenance Program. This program has been proven to double the life of your pavement, so you can continue to save money on your property maintenance costs.
Say goodbye to cracked pavement, uneven surfaces, and unsightly potholes in your parking lot with asphalt repair and sealcoating services from EverLine Coatings!