Comprehensive Parking Lot Maintenance Solutions
As a property manager in Kemptville, ON, you want your parking lot to look and function as well as possible. EverLine Coatings' parking lot line painting service ensures that the lines dividing the parking bays are clear and bright. Meanwhile, our asphalt repair service ensures drivers enjoy a smooth and predictable surface.
We make parking lot repair and maintenance as easy as possible for you, so you can focus on managing your property
Kemptville Parking Lot Line Painting

It's important to ensure the lines in your parking lot are easy to spot. EverLine Coatings doesn't just repaint over old, faded lines. We black out the old marks and then paint clean, fresh lines. This results in crisp, clear lines that remove all ambiguity over how drivers should use your parking lot. We can provide standard parking lot lines and specialty markings, such as company logos.
We understand you want your new line markings to last as long as possible. That's why we use TBL Durables traffic paint. This high-quality brand lasts longer than competitors, allowing you to enjoy clearer lines for longer.
Asphalt Repair That Is Reliable
Over time, a combination of wet weather and freezing temperatures can cause cracks, fissures, and potholes to appear in asphalt. EverLine Coatings uses an infrared asphalt repair method to fill in potholes and restore smoothness to your parking lot pavement. This method results in a high-quality finish. We remove any loose aggregate that could cause a problem for drivers or make your lot look untidy.
Contact us today to ask about asphalt repair. We coordinate repair projects to ensure the minimum of hassle for you. As a busy property manager, you can get on with other tasks while we handle your parking lot repair.
Our Asphalt Maintenance Work
Before
After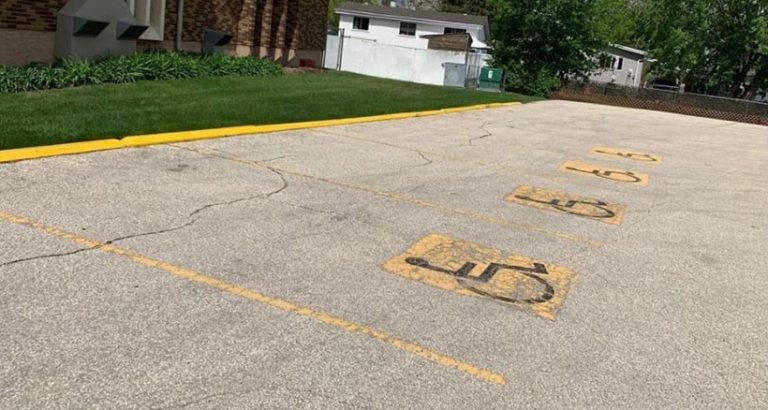 Professional Asphalt Sealcoating in Kemptville
Asphalt sealcoating is a great way to keep your pavement in good condition for longer. If you want to save money on parking lot repairs, then get in touch today to ask about our sealcoating service. We use a spray-on asphalt-based coating to protect the pavement and prevent cracks from forming. The result is a smoother surface that offers great comfort to drivers.
Here are some of the most important advantages of the asphalt sealcoating service offered by EverLine Coatings:
We never dilute sealing products
We repair and clean the surface before we start
We apply two coats of sealant to improve the quality and longevity of the surface
Our sealcoating products are designed to withstand both very hot and very cold temperatures.
Use EverLine Coatings and Services for Your Kemptville Parking Lot Repairs and Striping Needs
The historic town of Kemptville was founded more than 200 years ago. Today, visitors can learn about the mill-based history of the town by taking a Heritage Tour. Help them to form a great first impression of the town by keeping your parking lot in good condition. Our parking lot line striping and asphalt repair services can help!
Contact EverLine Coatings today for a free quote.
Phone: (613) 804-1474
Address:
300 Earl Grey Drive, Unit 11, Suite 241
Kanata, ON K2T 1C1
Contacts:
General Manager – Stephane Beaudoin