EverLine Coatings' Asphalt Repair and Parking Lot Line Painting Services
As a business owner or facility manager, you must keep your property safe and aesthetically pleasing for customers. Gatineau's harsh winters can make this a challenge. Maintenance and construction are a challenge in the dead of winter. We understand how busy your job is, and parking lot problems just add to the work. That's why EverLine Coatings has developed industry-leading pavement maintenance programs that help thousands of managers simplify their job while getting better results from their properties.
Ottawa's EverLine Coatings can prepare your facility and parking lot with durable line painting and top notch asphalt repair will keep your lot in the best shape year-round!
Parking Lot Line Painting

Although its benefits last throughout the year, consider adding parking lot line painting to your Gatineau winter parking lot repair prep list. Parking lot line painting with high-quality paint will make your parking lot easier to navigate no matter the weather. TBL Durables can withstand damaging sun exposure, rain, and snowplow scoops. Lasting up to 12 months, your lots will be fresher and safer.
Patrons often judge a business by how the property looks. When repainting or adding a new stencil that doesn't quite match the old, EverLine Coatings won't just paint over the old line markings. We'll blackout the old marks first so the new lines are clean and stand out.
Comprehensive Asphalt Repair
Asphalt repair is a must to maintain your parking lot in Gatineau properly. The rising and falling temperatures cause cracks and potholes that will worsen until adequately repaired.
Potholes can be treacherous to vehicles and pedestrians. At EverLine, we use a proprietary infrared asphalt repair process. This method includes heating the asphalt to 300-350°C to penetrate the surface layer of pavement. This melts the asphalt, resulting in the equivalent of fresh asphalt. Repairing your asphalt will reduce your potential liability for vehicle damages or pedestrian tripping and falling. A smooth parking lot will be easier to maintain and clear snow off of in the winter.
Our Asphalt Maintenance Work
Before
After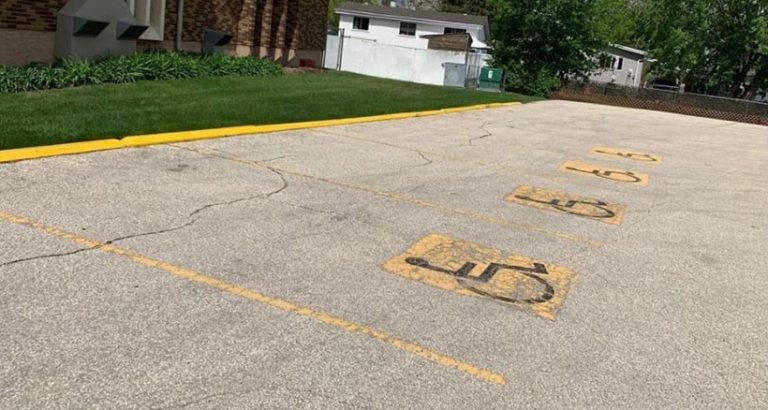 Your asphalt takes a beating from water, sun, and even chemicals. The surface slowly deteriorates and becomes brittle. Gatineau's EverLine Coatings uses a spray-on as asphalt-based waterproof material in their asphalt sealcoating process.
As leaders in the industry, we recommend you invest in asphalt sealcoating to extend the life of your parking lot and save you money on repairs and damages.
Let EverLine Help Your Gatineau Business with Our Line Painting and Asphalt Repair Services
Just a short bridge away, the joie de vivre of Gatineau, Quebec delights locals and tourists alike. From shopping to dining to museums and architecture, no matter your business, proper maintenance is key to your success. At EverLine, we are committed to providing you with thorough, reliable, cost-effective parking lot repair services. Put your business in the hands of the experts.
Want to know more about our line painting, asphalt repair, or asphalt sealcoating services? Contact us for a free estimate!
Phone: (613) 804-1474
Address:
300 Earl Grey Drive, Unit 11, Suite 241
Kanata, ON K2T 1C1
Contacts:
General Manager – Stephane Beaudoin