Interior Line Painting in Ottawa
At EverLine Coatings we offer high quality, precise and durable interior line painting services. Our interior line painting services include safety and production flow floor markings, plant and warehouse forklift traffic line markings and parking garage and parkade line painting.
About our Ottawa Interior Line Painting Services
At EverLine Coatings and Services we specialize in providing high quality interior line painting services. Whether your business requires forklift traffic marking, production flow markings, or any other kind or floor marking we can bring accuracy and durability to your project. Our experienced interior line painting crews have experience working in a variety of warehouses and interior workspaces and can provide quality line painting services for any business type. We provide a variety or materials and application processes so no matter the type of floor your business has we can provide accurate and durable line painting services. The variety of materials and application processes we offer also allows us to work with your business to make sure your project fits within your budget while still exceeding your expectations.
At EverLine we understand that your business cannot afford to have an unnecessary disruptions. This is why we employ multiple expert crews that can complete your interior line painting project during your company's down hours whether that be day or night. Having multiple crews also allows us to help a business that requires interior line painting services immediately. No matter your timeline the experienced line painters at EverLine are ready to help you.
Your business should choose EverLine Coatings and Services for your next interior line painting project because we are the interior line painting authority in Ottawa. Our decades of experience are unmatched, we have seen it all and do it all. No matter the space or the type of surface we have the proper experience to deliver exceptional results. We have completed all types of designs in all types of interiors so we know not only can we handle your job, we will exceed your expectations.
Other advantages that make EverLine an easy choice for interior line painting projects include off hours application. We know your business cannot afford unnecessary disruptions during work hours. This is why at EverLine we offer application periods overnight and on weekends. This means there is no reason to bring your operations to a halt to have an interior line painting project completed. We also offer the most durable products available, meaning when EverLine completes an interior line painting project it will last significantly longer than if it was done by one of our competitors.
We are the Interior Line Painting Experts
It is not just our unmatched experience that makes us the interior line painting experts in Ottawa. Our commitment to quality and delivering the best possible results is also what makes us better than the rest. At EverLine Coatings and Services we are committed to our crews and this is why we take the time to put all of our interior line painters through regular training programs. At EverLine we are always innovating and always finding ways to deliver better looking more efficient services. This is why we are always training our crew members to ensure they are always at the cutting edge of interior line painting.
In addition to innovation and rigorous training we always provide our crews with the newest specialized equipment and the highest quality products. A well trained crew with the best possible equipment and products always delivers expectation shattering results. When it comes to choosing a company to handle your next interior line painting project choose the experts ate EverLine Coatings and Services.
There are a few things your business can do prior to the arrival of our interior line painting crew, to ensure a high quality end result and an efficient application period. Please ensure the surface that is being painted has been cleaned prior to our arrival, this will help ensure durability and accuracy. Also make sure that all obstacles and debris have been removed from the area being painted this will allow our crews to work efficiently. Finally please put up notices around the area that it is being painting this will help ensure our crews safety and limit distractions.
Interior Line Painting Pricing
Providing the best possible value for your business is one of the key values at EverLine Coatings and Services. We work with your business to learn the all the details about your project and your budget. We use this information to provide you with a quote that will work for your business. All our pricing is done on a per job basis as there are many factors that can affect the price of an interior line painting project. 
To receive a quote for your upcoming interior line painting project please contact us.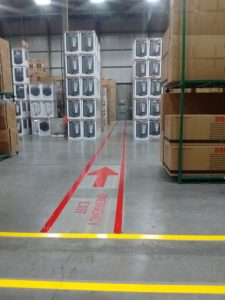 Phone: (613) 804-1474
Address:
300 Earl Grey Drive, Unit 11, Suite 241
Kanata, ON K2T 1C1
Contacts:
General Manager – Stephane Beaudoin
Surrounding Communities Serviced
Gatineau
Kemptville
Perth
Arnrprior
Renfrew
Shawville