Power Washing Services in Eastern Ontario
EverLine Coatings and Services has been providing professional power washing services to commercial properties and residences for decades. Our highly trained professionals will leave your property looking brand new.
About Our East Ontario Power Washing Services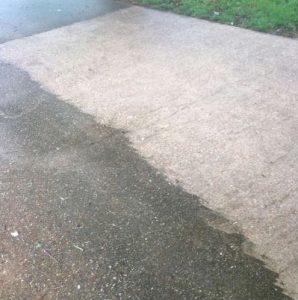 If your property is beginning to lose its curb appeal and look a little dingy, EverLine has the ideal solution for you! Our pressure washing services can help restore your property to a beautiful like-new state. We only use the best quality equipment to ensure that we deliver high quality work. Our experienced employees have years of experience and are specially trained to handle any pressure washing job. They are more than capable of power washing sidewalks, driveways, decks, patios, commercial buildings, parking lots and parking garages. Whether you have brick, asphalt or concrete, we are capable of leaving it clean and sparkling.
If your property has been left at the mercy of winter or other elements and is covered in salt, dirt, grime, mould or mildew, we can easily get it clean again. Our crews have extensive experience cleaning all types of properties and removing what the elements have left behind. We are capable of helping residents and businesses alike get their properties ready for spring with our power washing services.
Contrary to popular belief, not all power washing services are the same. At EverLine, we have an unrelenting commitment to quality and surpassing our client's expectations. This is why we have some of the most high quality and innovative
parking lot and pavement maintenance solutions
available. One of the innovations we use with our power washing is the fact we use hot water in our pressure washing systems. By utilizing the hot water, we are able to cut through grime and dirt left on your surfaces more effectively.
We are the Power Washing Experts
One of the biggest factors that makes EverLine Coatings an expert is our years of experience cleaning all types of surfaces and properties. In order to ensure that our power washing services are rendered effectively and with utmost quality, we make sure all of our crews go through comprehensive, in-depth training programs. We want you to feel confident that whenever one of our crews arrives at your property, that you will get the best pressure washing service available. All of our professional crews are equipped with the most innovative pressure washing systems and accessories. No matter the property type or surface, we guarantee high quality end results.
To ensure that our crew can provide effective power washing services, there are a couple of steps you can complete prior to our arrival. First, please ensure that the water at your property is turned on. After all, it would be impossible to complete power washing services without water. Secondly, please make sure all obstacles or large pieces of debris have been removed from the surface we will be cleaning.
Here at EverLine, making sure your business receives the best value on our power washing services is of the utmost importance to us. This is why we choose not to offer standardized flat-rate pricing. Instead, we choose to do our pricing on a per-job basis. This allows us to factor in elements that may affect the price of a power washing project. In addition, we make a point to gather all information about your project and budget so we may provide you with an accurate quote. We have years of experience working with various businesses and budgets, so we are confident that we can find ways to work within your budget without compromising quality. 
If you require a quote on a power washing project, please contact us.
Phone: (613) 876-2163
Address:
2407 Forfar Road
Portland, ON K0G 1V0
Contacts:
General Manager – Jeff and Ashley Chant
Surrounding Communities Serviced
Belleville
Brockville
Cornwall
Frontenac County
Haliburton County
Hastings County
Kawartha Lakes
Lanark County
Lennox and Addington County
Northumberland County
Pembroke
City of Peterborough and Peterborough County
Prince Edward County
Quinte Economic Development Commission
Quinte West
Smiths Falls
United Counties of Prescott-Russell
United Counties of Stormont, Dundas, and Glengarry