EverLine Coatings Parking Lot Services
Kingston, Ontario may be the perfect city for walking hidden alleyways to restaurant patios and antique markets, but that's only more of a reason to keep your parking lot looking amazing. Luckily, EverLine Coatings Ontario East makes that easy for you. Parking lot line painting and asphalt repair is a precision job that requires professionals in order to attain a stunning parking lot fit for Kingston.
Professional Parking Lot Line Painting in Kingston

Clear, vibrant lines on fresh blacktop are satisfying to see. Most parking lot line painting needs to be done every 18-24 months to keep lines from fading. At EverLine Coatings, we know that as a property manager, you're already juggling a lot. That's why we use top of the line TBL Durables paint that our clients report saves them over 20-30% in 3 years.
We will make sure your project is coordinated properly with no hassle, so you can focus on other tasks. Additionally, if we are repainting, adding a new stencil, or doing line painting that doesn't quite match the old, we won't just paint over the old line markings. We'll blackout the old marks first so the new lines are clean and really stand out!
Quick Asphalt Pothole Repair
Dips, cracks, and potholes in your Kingston parking lot aren't exactly inviting. And worse, they can be treacherous for customers to navigate. It's important to keep up with fixing cracks and potholes in order to keep them from getting any worse.
Asphalt repair shouldn't be a temporary fix. At EverLine Coatings you can count on our repairs to last.
Our Asphalt Maintenance Work
Before
After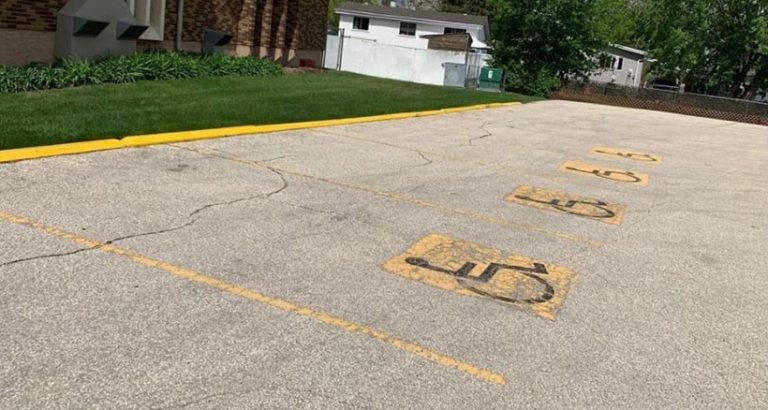 Asphalt Sealcoating For A New Look
Asphalt sealcoating for your parking lot should be done every 3-5 years. This keeps cracks and potholes from forming and prevents water from being able to seep into cracks. Sealcoating your parking lot not only creates a strong and durable bond, but makes it look brand new!
At EverLine Coatings, we're in the business of making it easy to maintain an attractive and functional parking lot.
Why Choose EverLine Coatings for Your Kingston, Ontario Property's Pavement Maintenance?
People come to Kingston for the museums, shopping, and incredible dining experiences. From its exciting events to its rich history, there are plenty of reasons why locals and tourists alike are out and about. Make your business worthy of visiting as well with a welcoming parking lot.
If you are looking for parking lot line painting or asphalt repair services in Kingston, reach out to EverLine Coatings today for a quote!
Phone: (613) 876-2163
Address:
2407 Forfar Road
Portland, ON K0G 1V0
Contacts:
General Manager – Jeff and Ashley Chant
Surrounding Communities Serviced
Belleville
Brockville
Cornwall
Frontenac County
Haliburton County
Hastings County
Kawartha Lakes
Lanark County
Lennox and Addington County
Northumberland County
Pembroke
City of Peterborough and Peterborough County
Prince Edward County
Quinte Economic Development Commission
Quinte West
United Counties of Prescott-Russell
United Counties of Stormont, Dundas, and Glengarry