EverLine Coatings Services
In a town like Gananoque, bustling with tourists, keeping your parking lot looking spectacular is a must. Surrounded by such beautiful scenery, faded lines and damaged asphalt stick out like a sore thumb. Keeping your parking lot up to standards probably feels challenging. Luckily, you've got professionals on your side.
EverLine Coatings makes improving your parking lot appearance easy and so simple. Our line painting and asphalt repair services are long-lasting and proven to lower maintenance costs.
Parking Lot Line Painting

Parking lot line painting is a crucial part of any lot. It can be frustrating for customers not to know who has the right of way or who is expected to stop at the end of a row. As a facility or property manager, it's up to you to communicate your expectations with directional markings, specified parking spaces, and warehouse safety markings. Clear lines ensure that you aren't held liable for accidents that happen in your parking lot. Additionally, there are compliance laws that have to be followed.
At EverLine Coatings, we use TBL Durables for many of our line painting projects. This paint lasts 3-5x's longer than other parking lot paint.
We know that customers judge a business by how the property looks. If we are repainting or adding a new stencil that doesn't quite match the old, we won't just paint over the old line markings. We'll blackout the old marks first, so the new lines are clean and really stand out.
Potholes in your parking lot can annoy customers and increase the risk of being held liable for damages and accidents. Not only that, but a treacherous-looking parking lot can deter potential customers and drive away business.
Our Asphalt Maintenance Work
Before
After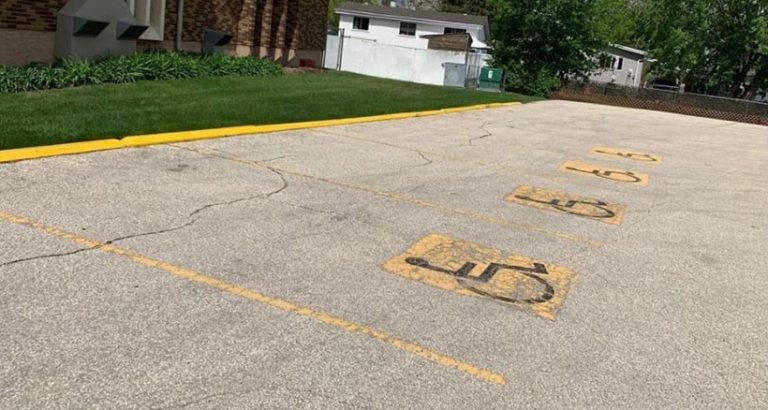 Parking lots generally need to be resealed every two to three years. Asphalt sealcoating can breathe new life into a patchy and worn-out lot.
At EverLine Coatings, our team sprays on our sealcoating solution that's a water-based product. It slows the deterioration of your parking lot and prevents any leakage that might occur. We can have your lot looking brand new with a quick turnaround time.
Why Choose EverLine Coatings for Your Gananoque Property?
With such beautiful sights in a place like Gananoque, Ontario, you need to stand out from the competition. EverLine Coatings can help you make an outstanding first impression with asphalt repair and parking lot line painting. As a property manager, you're already juggling a lot. We will make sure your project is coordinated properly with no hassle, so you can focus on other tasks. Request a free quote for our pavement services today!
Phone: (613) 876-2163
Address:
2407 Forfar Road
Portland, ON K0G 1V0
Contacts:
General Manager – Jeff and Ashley Chant
Surrounding Communities Serviced
Belleville
Brockville
Cornwall
Frontenac County
Haliburton County
Hastings County
Kawartha Lakes
Lanark County
Lennox and Addington County
Northumberland County
Pembroke
City of Peterborough and Peterborough County
Prince Edward County
Quinte Economic Development Commission
Quinte West
United Counties of Prescott-Russell
United Counties of Stormont, Dundas, and Glengarry