EverLine's Line Painting & Asphalt Paving Services in Smiths Falls
In Smiths Falls, the vibrant heart of East Ontario, EverLine Coatings is your go-to partner for parking lot line painting, asphalt repair, and asphalt sealcoating services. In this fascinating town, your property can stand out with a fresh, well-marked parking lot, smooth asphalt, and a protective seal atop the pavement to defy the elements.
As a property manager, your to-do list is already busy, so we are here to handle your parking lot repair projects, taking a load off your plate.
Parking Lot Line Painting

Let's paint the town, or in this case, your parking lot! Our parking lot line painting services go beyond the basics. We use the very best traffic coatings, including the industry-leading TBL Durables brand, ensuring your markings are not just clear and vibrant but ready to withstand all four Eastern Ontario seasons.
We don't just paint lines; we design well-planned layouts for efficient parking, as well as offering custom marking services. Our goal is to make your parking lot not just functional, but a standout in the neighborhood.
Asphalt Paving in Smiths Falls
EverLine Coatings employs state-of-the-art paver technology to evenly distribute and compact asphalt, rejuvenating a variety of surfaces, including walkways, driveways, parking lots, and more. Our comprehensive asphalt paving services not only fill and repair cracks and potholes but also encompass the creation of pristine new pavement.
Whether it's revitalizing existing surfaces or paving entirely new ones, we're dedicated to providing top-notch asphalt solutions that enhance the appearance and durability of every project.
Our Asphalt Maintenance Work
Before
After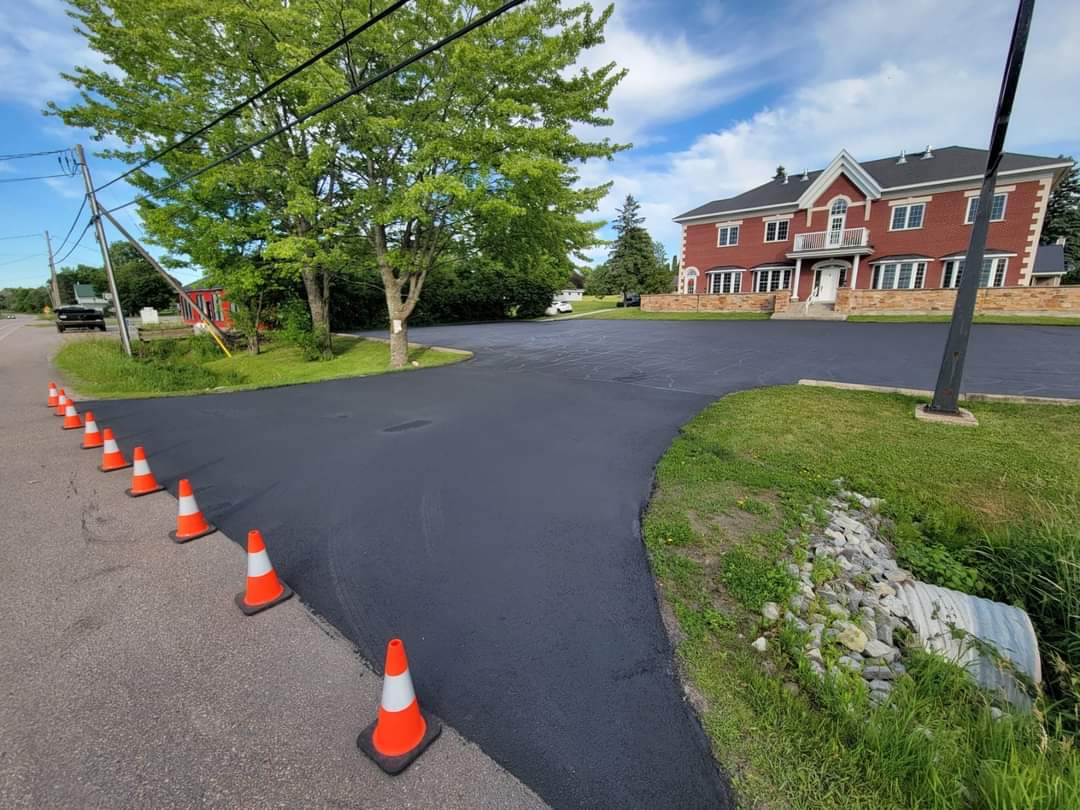 Asphalt Sealcoating in Smiths Falls
Want to protect your pavement from the ravages of the winter weather in Smiths Falls? You need asphalt sealcoating. This service adds a powerful layer of protection to your parking lot.
After fixing any existing cracks, we apply a high-quality sealant, creating a robust barrier against the elements. You can think of sealcoating as being like skincare for your pavement, reducing the development of lines and cracks, and adding years to its life. We use a double-layer application for double the protection, because your pavement deserves nothing less! You can also count on us to never dilute our sealants, as we believe in doing the best possible job every time.
Parking Lot Maintenance From EverLine Coatings in Smiths Falls
Smiths Falls is a great place to live, or to visit while passing through East Ontario. At EverLine Coatings, we are committed to preserving the beauty of this town and keeping everyone safe.
Let us take care of your parking lot maintenance needs. We know you've got a lot on your plate, and that's why we bring not just expertise but also simplicity and efficiency to every parking lot line painting, asphalt paving, or asphalt sealcoating job we take on. Get in touch with us today to ask about our services or request a free quote.
Phone: (613) 876-2163
Address:
2407 Forfar Road
Portland, ON K0G 1V0
Contacts:
General Manager – Jeff and Ashley Chant
Surrounding Communities Serviced
Belleville
Brockville
Cornwall
Frontenac County
Haliburton County
Hastings County
Kawartha Lakes
Lanark County
Lennox and Addington County
Northumberland County
Pembroke
City of Peterborough and Peterborough County
Prince Edward County
Quinte Economic Development Commission
Quinte West
United Counties of Prescott-Russell
United Counties of Stormont, Dundas, and Glengarry