Asphalt Solutions for Springer Group in Kingston, Ontario
EverLine Coatings and Services completely reworked, repaired, and recycled asphalt on properties owned by the Springer Group of Kingston, Ontario.
Helping a Kingston, Ontario Company with Their Pavement Maintenance Needs
Sustainable Asphalt Repair and Line-Striping Solutions

Springer Group is a Kingston business that has been acquiring and managing properties for decades. But they also rebuild and renovate them to be more modern, accessible, and sustainable. They had a great deal of asphalt repair that was needed on their properties, so they called on EverLine Coatings.
Springer Group was ready to let us prove why our services are expanding through the territory. With 20 properties in need of care, our skills were tested. Some of the larger asphalt repair was originally outside of our capabilities, but in the end, we served superior results. We have communicated with Springer Group every step of the way, and they have been satisfied with each update.
EverLine's Infrared Asphalt Repair Solution
Springer Group's commitment to sustainability matches our own, as we recycle asphalt instead of laying down completely new material. We use an infrared repair system to heat the asphalt to between 300° and 350° Fahrenheit. This allows us to rework the existing asphalt while incorporating a fresh mix, bringing the grade to the right height and creating a smooth, seamless repair. We then compact the patch to form a watertight seal, so no water will seep through. By recycling the existing asphalt on Springer Group's property, we presented them with a green solution that matched their values, while also saving them money on paying for new asphalt. Once the asphalt was repaired and sealcoated, we gave their property a final touch with line painting.
Cleaning Up With Parking Lot Sweeping
Finally, Ontario East EverLine Coatings offers exceptional sweeping services performed by our highly trained and experienced crew. We use specialized equipment to provide the best sweeping job to round out a high-quality and efficient parking lot renovation for this Kingston, Ontario business.
Before
After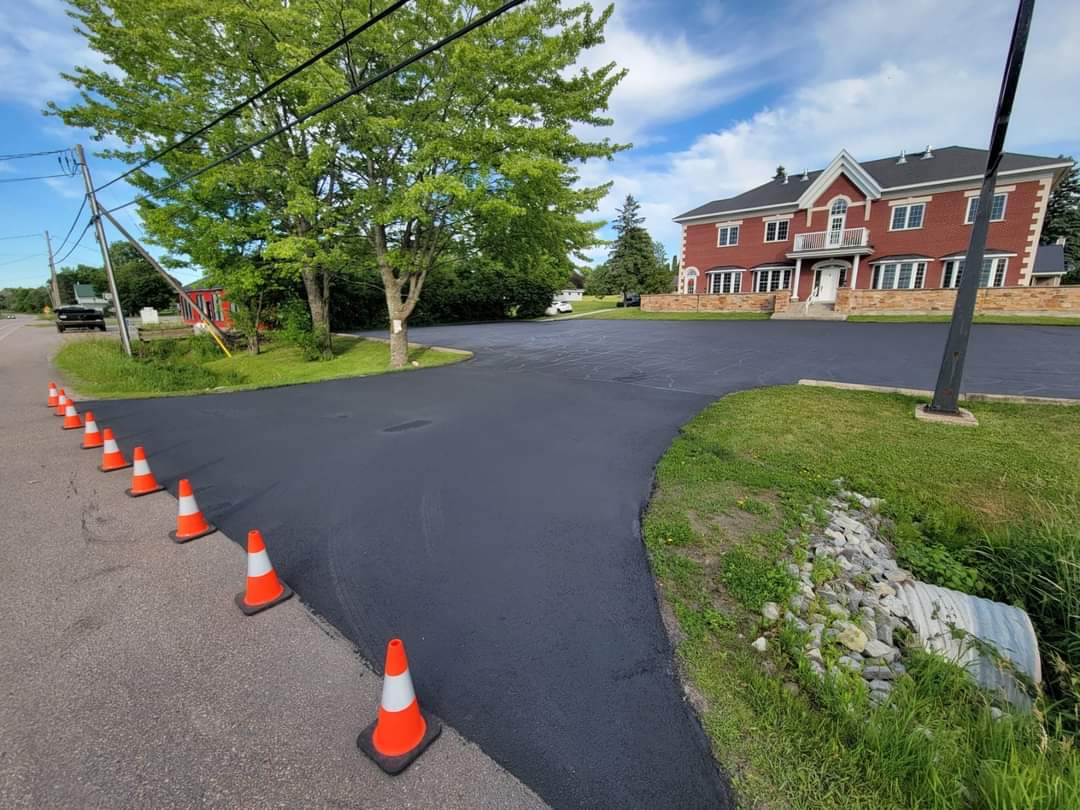 Phone: (613) 876-2163
Address:
2407 Forfar Road
Portland, ON K0G 1V0
Contacts:
General Manager – Jeff and Ashley Chant
Surrounding Communities Serviced
Belleville
Brockville
Cornwall
Frontenac County
Haliburton County
Hastings County
Kawartha Lakes
Lanark County
Lennox and Addington County
Northumberland County
Pembroke
City of Peterborough and Peterborough County
Prince Edward County
Quinte Economic Development Commission
Quinte West
Smiths Falls
United Counties of Prescott-Russell
United Counties of Stormont, Dundas, and Glengarry