Interior Line Painting Services in Eastern Ontario
EverLine Coatings and Services happily offers a number of interior line painting services to warehouses, industrial facilities and business owners in the Eastern Ontario region. Our services include safety and production flow floor markings, plant and warehouse forklift traffic line markings and parking garage and parkade line painting.
About our East Ontario Interior Line Painting Services
EverLine is one of the most experienced interior line painting experts in Canada. We are confident that we can handle any interior line painting project you may need to be done. Our years of experience have let us complete a wide range of jobs in various environments. Regardless of if you need safety, production and forklift traffic markings, our interior line painters can complete your project with the utmost professional execution. 
We are also capable of working in various capacities, depending on your business and details of your project; we can customize your floor marking project and can provide you with the best materials, match your budget and provide you with a durable product. We utilize our large network of professional painting contractors to work quickly and efficiently, which minimizes the interruptions and disruptions to daily operations.
At EverLine, our unrelenting commitment to quality is what allows us to stand out from our competitors. Our CORE quality system ensures that we not only provide top quality workmanship but also exceed our clients' expectations. CORE stands for Clear scope, Operations reports, Reach out and Evaluate. Through adhering to this system, it guarantees that our clients can always be involved in the work we are completing. We want to make sure we meet the specific needs of clients and we believe that open communication is the best way to achieve this. Our clients always have a say in every step of the process.
It is just as important to you as it is to us that your business operations are not interrupted. This is why we offer flexible work schedules, so we can complete the project without impacting your day-to-day operations. We can arrange with you to complete your interior painting project overnight or on the weekend to best suit your business operations.
To guarantee the quality, our high quality line painting solutions only use durable materials to ensure that your interior line markings last. However, we always make sure that our services are done at a reasonable cost, we balance durability and affordability. We choose to take a value-focused approach to all of our interior line painting projects to ensure integrity and affordability without compromising the quality of work.
We are the Interior Line Painting Experts
We understand that safety, stock location, and plant/warehouse forklift traffic line markings are a very important part of any operational production or distribution facility. Our interior line painting crews have successfully completed a large variety of projects such as safety and production flow floor markings. We only use the highest quality products ranging from paint to epoxy paint and even urethane. We can make sure you are matched with the right materials for your budget and durability expectations. Our durable product is capable of being applied on a variety of surfaces such as concrete, asphalt and more. Our in-house multi-crew setup allows us to dispatch a single dedicated team or multiple to minimize disruptions to day or night operations.
There are a couple of steps your business can take before the arrival of our EverLine crew. Firstly, please ensure that the floor we will be working on is free of obstacles, obstructions, debris (for example dust). This will help ensure that we are able to get pristine precision (like crisp edges) as well as ensure the longevity of your interior line painting project. Secondly, it is strongly recommended that you put up a notice of our crew's arrival for work to ensure a safe working environment and prompt completion of the work. By completing these steps, you help ensure excellent results and excellent service.
Interior Line Painting Pricing
We understand that each project can vary drastically, this is why we do not offer standardized pricing for our interior line painting services. Instead, we choose to do our pricing on a per-job basis which still allows for competitive pricing. Pricing can fluctuate based on volume, difficulty, traffic and materials used on site. Our team places an emphasis on great communication with our clients to ensure we can provide you with a quote that works within your budget. 
If you would like a quote on an interior line painting project, please contact us.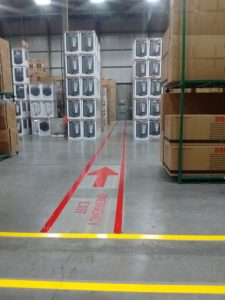 Phone: (613) 876-2163
Address:
2407 Forfar Road
Portland, ON K0G 1V0
Contacts:
General Manager – Jeff and Ashley Chant
Surrounding Communities Serviced
Belleville
Brockville
Cornwall
Frontenac County
Gananoque
Haliburton County
Hastings County
Kawartha Lakes
Kingston
Lanark County
Lennox and Addington County
Northumberland County
Town of Prescott
Pembroke
City of Peterborough and Peterborough County
Prince Edward County
Quinte Economic Development Commission
Quinte West
Smiths Falls
United Counties of Prescott-Russell
United Counties of Stormont, Dundas, and Glengarry