Power Washing in New Brunswick
EverLine Coatings and Services provides high-quality power washing services to locations throughout Canada as well as the business owners and property owners in the province of New Brunswick. Our highly-trained professionals can give a thorough cleaning to any type of property and return it to looking brand-new.
About Our Power Washing Services in New Brunswick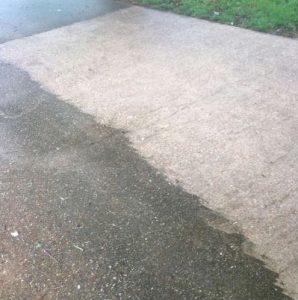 If your property doesn't have the same curb appeal or shine like it used to, EverLine Coatings and Services has the perfect solution for you. Our pressure washers and power washing services can restore your property to a like-new condition. We only use the highest quality power washing equipment available and highly trained technicians to ensure that any exterior cleaning jobs we complete are done with pristine expertise. Our knowledgeable staff are trained in power washing walkways, driveways, decks, patios, parking lots and parking garages. Regardless of the surface type (such as brick, metal, or concrete), we can have it looking new again.
If winter has left our property covered in salt, dirt or gravel we can easily help you get it looking clean again. Our crews are experienced and able to clean all types of properties. We are not only capable of removing what winter has left behind but also able to clean through grime, algae, mildew, mold and more as well! If you need to get your business or property ready for spring, our power washing services can help.
Contrary to popular belief, not all power washing services are the same. Here at EverLine, we have an unrelenting commitment to quality and delivering an end result that amazes. This is why we have some of the highest quality and innovative power washing equipment. One of the innovations we use that sets us apart from the competition is our crews only use hot water power washers. By not using cold water, our hot water washers are able to cut through grime and dirt easier on surfaces and clean more effectively. We always aim to meet and exceed customer satisfaction and expectations.
We are the Power Washing Experts
At EverLine what makes us experts is our years of experience cleaning all types of surfaces for a variety of properties. We always ensure our employees and each individual on our power washing crews have undergone in-depth training as well. We recognize that in order to provide effective and quality service having highly trained crews and quality equipment are necessities. This is why we have made a commitment to ensure all of our power washing crews not only have access to the best training but equipment as well.
In order to ensure that our technicians can provide the best quality and most effective power washing service, there are a few steps you can take beforehand. First, please ensure that the water at your property is turned on. Secondly, please ensure that any large obstacles or debris has been removed from the area we will be cleaning.
We always want to ensure that any business we service receives the best value on power washing services. This is why we do not offer flat rates on pricing, instead, we choose to do our pricing on a per-job basis. We account for the many factors that can affect the pricing of a power washing job. We always make sure to gather and know all the details of your project before providing a quote. Through working with your business we can provide a price that will work within your budget. If you require a quote for a power washing project, please contact us.
Phone: (506) 852-6795
Address:
58 Weymond Crescent
Riverview, NB E1B 5H6
Contacts:
General Manager – Joshua Critch
Surrounding Communities Serviced
Moncton
Grand Bay
Rothesay
Westfield Beach
Quispamsis
Musquash
Nauwigewauk
Welsford
Dipper Harbour
Hampton
Saint Martins
Queenstown
Pennfield
Gagetown
Central Blissville
Saint George
Fredericton Junction