EverLine Coatings and Services provides professional power or pressure washing services to the locals in the Kelowna community as well as other locations across Canada. We have high-trained professionals who can help you restore your property and satisfy your exterior cleaning needs.
About Our Power Washing Services in Kelowna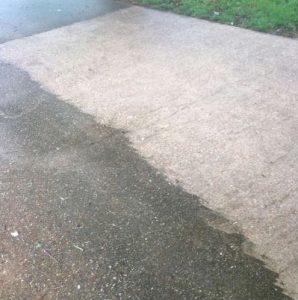 If your property or commercial property has been left looking a little run down after seasonal changes, EverLine Coatings and Services has what you need to return the shine! Pressure washing is a fantastic service to help remove dust, mold, mildew, even seasonal allergens like pollen as well! We only use the highest quality washers for such services and ensure our crews are expertly trained and have the best resources available to them. Our crews are capable of cleaning a variety of surfaces such as sidewalks, driveways, decks, any type of building, parking lots, and parking garages. Regardless of the material surface type (brick, metal, or concrete), we can have it looking like new again.
We all understand that the seasonal changes especially in lake country can take a toll on your exterior surfaces. A good exterior washing can even help with seasonal allergies, triggers like pollen will be cleaned off by a high-pressure washer. Our crews are experienced in cleaning various types of property and surfaces, regardless of what has been left behind on your property by the elements they can indefinitely help.
Although you may have been led to believe that power washing services are the same but that'd be a mistake. Here at EverLine, we have an unrelenting commitment to quality and delivering a high-quality end result that is wow-worthy. We always are on the lookout for new innovations and improvements when it comes to our power washing equipment available. One power washing innovation that we use at EverLine that helps differentiate us against the competition is the use of hot water in power washers. By utilizing the heat of the water we can cut through layers of dirt and grime left on your surfaces even more effectively and ensures that your property shines.
We are the Power Washing Experts
At EverLine, one of the characteristics is our decades of experience cleaning all types of surfaces and properties. To ensure our crews and services are not only effective and efficient, but we also take a special interest in ensuring that our crew has completed detailed training programs. This is why we commit to making sure all of our power washing crews are properly trained and are provided with the best power equipment to always deliver the best results. It doesn't matter the property types or surfaces, EverLine can look brand new again.
Prior to our crew's arrival, there are a couple of instructions you can complete to help ensure that all work is done on time. Firstly, please make sure that the water at your property is running, after all, we can not complete a power washing job without water. Secondly, please ensure that any obstacles such as outdoor holiday lights are cleared out of the way, this is especially important if we are performing a house wash or rain gutter cleaning. A clear working area is the best way to ensure a good quality clean.
The easiest way to make sure that we provide our customers with the best service is to tailor our services to them. We place importance on getting to know the details and scope of your power washing project. It is because of this that we do not offer flat rate pricing like our competitors. Instead, EverLine Coatings and Services offers pricing on a per-job basis. This allows us to collaborate with your business to not only ensure that all the little details are taken into consideration but also that we work within your budget. If you would like to receive a quote on your power washing project, please get in contact with us.
Phone: (250) 979-8764
Address:
195 Briarwood Rd #105
Kelowna, BC V1X 2G4
Contacts:
General Manager – Paul Hruby
Surrounding Communities Serviced
West Bank
Kelowna
Vernon
Penticton
Winfield
Peachland
Oyama
Summerland
Mazama
Okanagan
Lumby
Douglas Lake
Armstrong
Cherryville
Hedley
Enderby
Quilchena
Oliver