Asphalt Sealing & Crack Filling in Kelowna
When it comes to parking lot maintenance, asphalt sealcoating and crack filling can help prevent the need to repave as well as extend the value and life of your existing pavement investment.
About our Kelowna Asphalt Sealcoating & Crack Filling Services
When you begin the process of asphalt seal coating it involves spraying an asphalt-based material over the surface area that will seal any existing cracks and prevents water seepage which causes potholes and large cracks. This type of pavement maintenance helps the asphalt look brand new and preserves that crisp black-top look.
Another important procedure to help prevent water deterioration is asphalt crack filling. By taking preventative measures you can help avoid damage to your pavements such as potholes, 75% of all untreated pavement cracks become potholes. Crack filling allows for the subgrade base to be protected and remain stable which elongates the life of your pavement.
At EverLine what makes us stand out from the rest is our commitment to quality and work ethic. Our CORE quality system helps us elevate our standard to always exceed customer satisfaction and expectations. The abbreviation CORE stands for Clear scope, Operations reports, Reach out and Evaluate. By adhering to this system, we always ensure our clients are incorporated into the process and the work we are completing.
We understand that to provide the highest quality asphalt sealcoating and crack filling service we must be meticulous in our execution. This is why we do not cut corners, we make the right choice to follow the manufacturer's recommendations when it comes to mixing our products, we do not thin ours out. By following the manufacturer's recommendations, we can guarantee longevity. Our preparation is a major factor when it comes to providing crack filling and sealcoating services. In addition to high-quality equipment, we take extra steps to ensure quality results. Steps such as applying two coats of asphalt sealant o the surface to maximize value or ensuring the grounds are clear of dirt, gravel or debris before sealing cracks are some of the extra precautions we take.
We are the Asphalt Sealing & Crack Filling Experts
EverLine remains unmatched in excellence and service when it comes to asphalt sealing and crack filling, regardless of the job or surface our professionals can help. Whether you are looking to have a parking lot, driveway or street we have the equipment and products to protect your surface, increase the longevity of your asphalt surface and help prevent re-paving costs.
Our sealcoating and crack filling services have many benefits including slowing down the pavement deterioration, adding traction and improving the ride quality. All these factors help keep your surface remain looking new, minimizes the environmental impact but most of all help your business save money.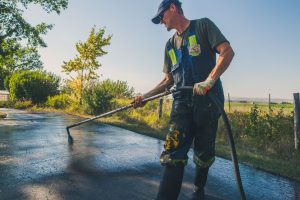 If you have crack filling or asphalt sealing services scheduled, there are some steps you can take prior to our crew's arrival. Prepping your asphalt surface will help us complete our work in a timely manner.
Some steps you can take to prepare for asphalt sealing or crack filling are:
Please ensure the surface is swept
Clear the surface of all vehicles or as many as possible
Please ensure that all obstructions, obstacles and debris are removed
Notify any tenants that asphalt sealing and crack filling services are being performed
Asphalt Sealcoating and Crack Filling Pricing
Here at EverLine, we do our pricing for our services on a per-job basis. We factor in elements such as volume, difficulty, traffic and on-site materials. To ensure the best pricing we take the time to understand the details of your project and a budget you like to stay within. We have years of experience working with many different budgets and can guarantee that our efficient services can be accommodating to yours. If you are interested in getting a quote, please contact us.
Phone: (250) 979-8764
Address:
195 Briarwood Rd #105
Kelowna, BC V1X 2G4
Contacts:
General Manager – Paul Hruby
Surrounding Communities Serviced
West Bank
Kelowna
Vernon
Penticton
Winfield
Peachland
Oyama
Summerland
Mazama
Okanagan
Lumby
Douglas Lake
Armstrong
Cherryville
Hedley
Enderby
Quilchena
Oliver