At EverLine, our highly trained crews can create line markings for almost any application on a variety of different surfaces. This month, we wanted to showcase some of the more interesting projects we have completed in the aviation industry and beyond. Regardless of what kind of business you run or what kind of property you manage, EverLine can create markings to keep your property running safely and efficiently.
Helicopter Landing Pad Markings
An example of a more out of the box project we have completed is painting markings on a helicopter landing pad. Not many line painting companies would be able to flawlessly execute a project like this. As with all our projects we approached it with professionalism and were able to work around a tight schedule.
Our crews created a template and painted markings that look incredible. Thanks to our TBL Durables paint product, you can be sure that these helipad markings will look great for years to come.
As you can see, the clean, crisp lines look impeccable on this helicopter landing pad. When it comes to applications like this, creating quality results are important for safety and functionality.
Visible Helicopter landing pad markings can make a big difference in a pilot's ability to land the helicopter safely. Having visible markings that direct the aircraft are an integral part of being able to land safely and accurately. If the pilot cannot clearly see the dimensions of the landing pad, it can make landing much more challenging if there is bad weather or unfavourable lighting.
Airport Runway Markings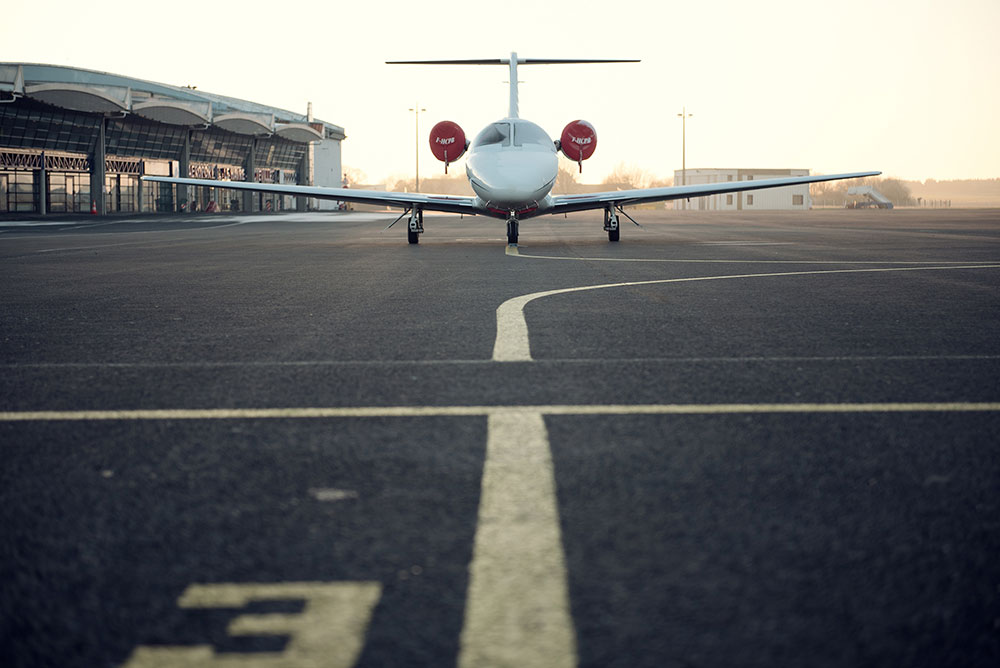 EverLine's highly trained crews have the ability and the needed equipment to create quality markings on a variety of surfaces. Our crews are able to create quality airport runway markings on asphalt or concrete surfaces as well.
Our crews can create lines that will help control air traffic, aid airport staff, direct pilots, and keep everything running safely. Line markings play a critical role in airport safety and should be maintained regularly to ensure their effectiveness.
Markings need to be visible so that pilots can safely take off, land, and move through the airport. This is an integral part of a safe trip! Without them, pilots can have a difficult time finding their way to their destination within the airport. Clear airport runway markings can make the difference between a good flight and a bad one.
It is important that marking on a runway don't become faded quickly or cracked and unlegible. At EverLine Coatings we use TBL Durables to complete our line marking projects. This is the best line painting paint available and lasts 3 times as long as other line marking products. This is why airports trust us to provide them with line markings that will last.
Another thing to be considered is the safety of airport staff. Airport traffic controllers and ground staff work hard to direct aircraft while they're in the airport. Having well designed and clearly marked lines can help them effectively direct aircraft to their dock, hanger, or destination.
From taxiing to the runway, to taking off, to landing safely, to parking the aircraft, EverLine Coatings and Services can create runway markings to keep your airport running smoothly, safely, and on schedule. Proper airport runway markings are an investment that will save your airport a considerable amount of money in the long run.
Warehouse Floor Markings


Another important line marking application that is often overlooked is warehouse markings. When it comes to shipping, receiving, and storing inventory, it's essential to be able to control the flow of products and supplies safely and effectively in a warehouse. The picture above is of the lines the EverLine Calgary crew painted at Syndicate Transport.
Warehouse Markings Improve Safety


Line markings in warehouses are important to clearly show where loading docks are, where inventory should be placed, and to control forklift and power jack traffic inside the warehouse as well. The experienced crews at EverLine Coatings and Services have painted a variety of warehouses across the country and can consult with you to create a safe and effective line layout.
Warehouse Line Markings Improve Storage


The markings in your warehouse can be strategically painted to increase efficiency, create more storage space, and improve safety. Our exclusive TBL Durables product will look great for years to come on concrete surfaces with a significant amount of traffic indoors as well.
If you want to keep your business running smoothly, have effective inventory control, and improve the safety for your staff, invest in high-quality warehouse line markings from EverLine Coatings and Services. Our crews can execute a warehouse line painting project with excellent results that will help improve your bottom line and save your business money in the long run.
Pathway Lines


One surface that is often overlooked from a safety perspective is pathways. Pathways are often simply marked with a yellow divider line to separate users that are travelling in different directions. However, in some instances, one yellow line isn't adequate to keep the pathway users safe.
At EverLine Coatings and surface, we have experience painting everything from simple yellow divider lines on pathways to more complex projects like the one pictured above. We can create markings that clearly demonstrate where pathway users should do and alert them of any potential hazards they may encounter.
If you need high-quality markings too keep a pathway you manage safe for its users, EverLine Coatings and Services can help. We can create any kind of markings that your unique pathway needs to keep users safe and make it easier for them to share the pathway.
Playground Line Markings


Kids need line markings too! Here's a cool line painting project from EverLine's North-Bay and Sudbury crew. They painted these lines on an asphalt pad to create a playspace for the kids living in this neighbourhood.
Thanks to our top of the line painting equipment and rigorous training, we can create intricate line markings for playgrounds and other recreational areas that may need them. Whether it's athletic court, a maze, lines for hopscotch, or another game, our crews can make accurate lines to create a safe and inclusive place for kids to play.
Think about it, if you manage a school, community centre, or a property with a playground, how could it benefit from having clearly marked lines? Kids are creative and will make their own rules if you simply mark them some lines on a playground for them to play with.
EverLine Can Create Line Markings for Your Surface
These are just a few examples of some of the interesting surfaces that EverLine's crews can create markings on. If you are in need of line markings to improve the safety, functionality, or aesthetics of your property, the highly trained crews at EverLine Coatings and Services are happy to help. Contact EverLine today for all of you line painting and floor marking needs.