Power Washing Services in Halifax and Nova Scotia
EverLine Coatings and Services provides professional, high-quality power washing services to the business and communities in the Halifax area. Our highly trained professionals will leave your property looking brand new.
About Our Halifax & Nova Scotia Power Washing Services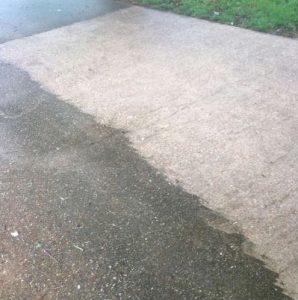 If your property has become dingy and is losing its curb appeal, our power washing services can be a great solution for you. EverLine Coatings' professional pressure washing services can have your property looking like new once again regardless of the time of year. We only use the highest quality power washing equipment available and highly trained crews to make sure your property shines. 
Our crews are experienced and are trained in high pressure washing of all kinds of surfaces such as sidewalks, decks, patios, driveways, walkways, all types of buildings, parking lots and parking garages. It doesn't matter the exterior cleaning surface either, we are capable of cleaning brick, metal, concrete and more!
If winter has left your property or parking lot covered in salt, dirt, gravel or other types of residue or debris, we can easily get it clean again. Our crews are experienced in cleaning and maintaining all types of properties and removing whatever the season has left behind.
Many may think that most power washing services are the same but they'd be wrong. At EverLine, we have an unrelenting commitment to quality and delivering an end result that wows. This is why we have some of the highest quality and most innovative power washing equipment available. One of the innovations that are unique to EverLine is the fact that our crews only use hot water washers. By using hot water we are able to cut through grime, grease, algae, sediment and stains much easier which guarantees your surfaces are effectively cleaned and left looking beautiful!
We are the Power Washing Experts
Our years of experience and standard of integrity are what make us stand out against the rest of the competition. At EverLine, we ensure that every individual on our power washing crew undergoes in-depth training to certify that they can provide effective quality of service. In addition to their in-depth and thorough training, we equip our technicians with the best power washing equipment available. 
The basis of our business is simple, we strive to provide outstanding results completed by true professionals to various business owners across Canada. No matter the type of project you have or the surface type, we are confident that we can complete an excellent job and one that is done to meet and exceed high standards.
To ensure our crews can provide effective power washing services when they arrive at your property, there are a few steps you can take prior to our arrival. First, please make sure that the water at your property is turned on. After all, it would be impossible to complete power washing if there is no water. Secondly, please ensure that any large obstacles or large pieces of debris are removed from the area we will be cleaning.
Ensuring your business receives the best value on power washing services is extremely important to us here at EverLine. This is why we do not offer standard flat-rate pricing, instead, we choose to do ours on a per-job basis. We understand that there are many factors that can affect the pricing of a project, this is why we take the necessary time to know the details of your project prior to giving a quote. Through working with your business, we can provide you with a quote that works within your budget without compromising quality. If you require a quote for a power washing project, please contact us.
Phone: (902) 800-4006
Address:
515 Lucasville Rd Unit 101
Lucasville, NS B4B 1R8
Contacts:
General Managers – Faisal Khatib and Ziad Makki
Surrounding Communities Serviced
Halifax
Dartmouth
Eastern Passage
Bedford
Lower Sackville
Beaver Bank
Lawrencetown
Sambro
Terence Bay
French Village
Prospect
Seaforth
Ingramport
East Chezzetcook
Mount Uniacke
Hubbards
Elmsdale
Mill Cove
Musquodoboit Harbour