Interior Line Painting Services in Halifax and Nova Scotia
EverLine Coatings and Services is happy to provide a number of interior line painting services to businesses in the Halifax and following areas. Our painting professionals are capable of completing safety and production flow floor markings, plant and warehouse forklift traffic line-markings and parking garage and parkade line painting.
About our Halifax and Nova Scotia Interior Line Painting Services
EverLine Coatings is one of the most experienced interior floor markings companies in Canada and can handle interior floor marking projects you may need to be done. We have worked in a large variety of safety, production and forklift marking projects and are confident we can meet your specific needs in terms of schedule, budget and materials. 
Depending on your business and the kind of job you'd like, we are able to customize your floor marking project. With all of our interior floor marking services, we aim to provide superior painting services that guarantee client satisfaction and excellence. We have multiple crews of interior line painters that can work quickly and efficiently which helps minimize disruption to day or night operations.
Our commitment to quality is what lets us stand out from our competitors. Our CORE quality system allows us to ensure that we meet and exceed our client's expectations. Our CORE abbreviation stands for Clear Scope, Operations reports, Reach Out and Evaluate. By implementing this system in every aspect of our services, we ensure that our clients are always involved in the work we are completing and can ensure quality for themselves throughout every step of the process.
It is just as important to us as it is to you that your business operations are not impacted or disrupted. This is why we offer flexible work schedules so that we can get the job done without impacting your regular business hours or day-to-day operations. We will arrange to complete your interior line painting project either overnight or on the weekend to best accommodate your operation schedule.
To ensure quality, we only use durable quality paints and professional equipment to ensure that your line painting project lasts. In addition to this, we always make sure to balance durability and affordability. We take a value-focused approach to all our projects that never compromises quality. We want to ensure that we provide quality detailed work at affordable rates.
We are the Interior Line Painting Experts
Safety, stock location, and plant/warehouse forklift traffic line-markings are a very important part of any operational production or distribution facility. We have completed numerous safety and production flow markings using everything from paint to epoxy and even urethanes' as well. Our experience in these facilities and knowledge of advanced painting techniques allows us to customize and tailor interior line painting projects to your specific needs. We always make sure that we are offering the right materials to match your project details, budget, window of application and durability expectations. Our in-house multi-crew setup allows us to work promptly without impacting daily operations.
There are a couple of steps that your business can complete prior to our interior line painters' arrival. Firstly, please ensure that the floor we will be working on is clean and free of obstructions, obstacles and debris. This will help ensure the longevity of your interior line painting project and also allow our technicians to complete the job within the allotted time frame. Secondly, it is strongly recommended that you place notices of our contractors arriving to work on the floors as this helps ensure a safe working environment.
Interior Line Painting Pricing
Since each project can vary dramatically in price, we do not offer standardized pricing for our interior line painting projects. Instead, we choose to do our pricing on a per-job basis. This allows us to create a detailed quote that factors in volume, difficulty, traffic and materials used on-site. Our team can indefinitely work with your business to help accommodate your budget and needs. If you would like a quote on interior line painting projects, please contact us.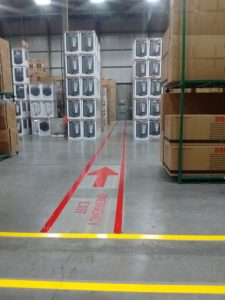 Phone: (902) 800-4006
Address:
515 Lucasville Rd Unit 101
Lucasville, NS B4B 1R8
Contacts:
General Managers – Faisal Khatib and Ziad Makki
Surrounding Communities Serviced
Halifax
Dartmouth
Eastern Passage
Bedford
Lower Sackville
Beaver Bank
Lawrencetown
Sambro
Terence Bay
French Village
Prospect
Seaforth
Ingramport
East Chezzetcook
Mount Uniacke
Hubbards
Elmsdale
Mill Cove
Musquodoboit Harbour