Durable, attractive interior line painting creates safe, clearly marked warehouses, distribution centres, and other industrial spaces.
Lasting, Clear Directional and Safety Markings for Warehouses and Distribution Centres
Warehouses, distribution centres, and other industrial interiors must be safe and easy for staff, visitors, and tenants to navigate. If your space isn't clearly marked with vital directions and safety instructions, it increases the chances of inefficiency, accidents, and other concerns.
Fortunately, there's a simple, effective way to communicate traffic flow, safety information, and other important messages to keep everyone moving throughout your building with ease—with bright, bold interior line painting.
At EverLine Coatings, we understand your property is unique and deserves the best. We'll provide clear interior warehouse line painting and customized markings that reduce liability risks and keep your spaces safe and efficient.
The Value of Line Painting within Industrial Buildings
Properly marked interior spaces make it easier for employees and customers to save time, eliminate confusion, and avoid accidents as they move about your commercial property. With brightly colored, straightforward marks on floors (and walls if needed), warehouses and other work areas can flow as smoothly as a brand-new parking lot or street—with everyone knowing exactly where to go.
Consider these pluses of adding line marking to your commercial interior floors:
Warehouses, industrial workspaces, and similar areas are home to complex equipment, machinery, and vehicles that can damage people and property if not properly managed. Strong, eye-catching warehouse safety markings reduce liability risks by highlighting fire extinguishers, eyewash stations, emergency exits, and other safety elements.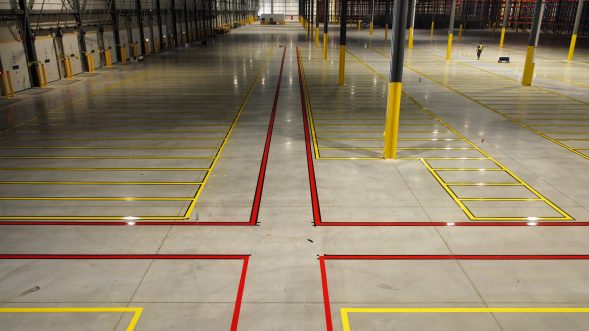 Prevent time-wasting frustrations and put an end to employees milling about in confusion or mistaking where to find essential tools and equipment. Add informational warehouse floor markings to highlight every aspect of business, such as workstations and factory line positions—and see how productivity soars!
Clearly marked instructions for where and how to store supplies and products ensure your warehouse remains neat, streamlined and efficient. Our customized line painting can even add barcodes and other vital details to floors and walls so you can easily keep track of everything.
Create Clear Traffic Flow
Warehouses and loading docks are complex to navigate, with pedestrians, forklifts, and third-party truck drivers all vying to find space to move without causing damage. Reduce the likelihood of costly accidents and help traffic flow easily with durable, bright interior directional lines, traffic lanes, arrows, stop/slow marks, and more.
The EverLine Coatings Difference
Managing a property is hard, complex work, and you deserve to have a contractor that's committed to making your job easier—saving you time and avoiding headaches. When you bring EverLine Coatings and Services on-site, you can count on EverLine's CORE Quality System® to deliver:
We ensure you stay in-the-know at every stage of the process—so you can concentrate on business.
Industry-Leading Expertise
With our deep technical understanding of line painting products and coatings, you can rest assured that you'll receive the superior results you deserve.
Every member of the EverLine Coatings team is trained and certified in our services through our detailed, proprietary training program—ensuring consistent, high-end line painting every time.
Full Satisfaction Guaranteed
Once your line painting project is complete, we perform a full evaluation to make sure you receive what you paid for. We even give you a report with before-and-after photos for added peace of mind.
Topnotch, Lasting Interior Line Painting for Your Industrial Property
Enjoy safe, efficient performance and long-term value from your commercial building with durable, beautiful interior line painting from our team of experts. We'll work with you to create the ideal floor markings for your unique space, with minimal disruptions to your normal flow of business. Contact EverLine Coatings today!