At EverLine we have high quality epoxy flooring products and cutting edge equipment to deliver superior epoxy flooring solutions. Large or small surfaces, it doesn't matter we can help.*
*In select locations. Contact us for details.

About our Epoxy Floor Services
At EverLine Coatings and Services, we provide epoxy flooring solutions to locations across Canada. If you want to protect your business' existing flooring or create a slip-resistant surface, then epoxy flooring is a great solution. Our highly trained staff can deliver an epoxy flooring end result that looks amazing and is incredibly durable.
Here are some great reasons why your business should consider an epoxy flooring solution:
Easy to clean
Chemically resistant
Protects your concrete
Most affordable flooring system compared to any other alternative
Highly customizable to each job (any colour, design or lifetime)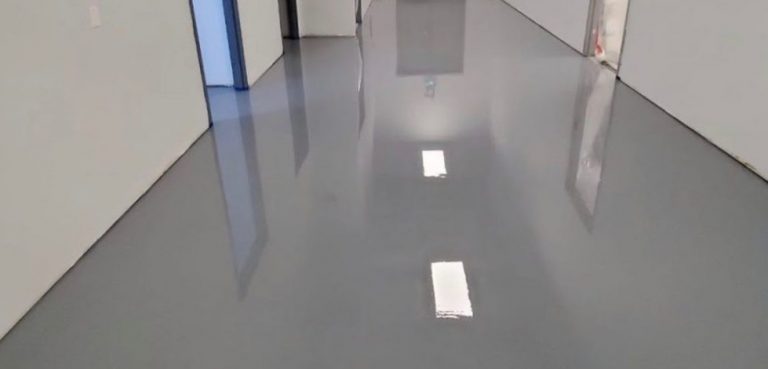 At EverLine, we operate by three key values that differentiates us from the competition. These key values are constant innovation, our quality is systemized, and we answer the call when you need us. Adhering to these values ensures that we offer solutions our competitors cannot. Every client receives the highest quality of work, we work within your schedule and are always there when you need us. It is this level of services and commitment that has us at the forefront of our industry.
At EverLine, we only use the most innovative and high quality epoxy flooring solutions available. This means we can deliver epoxy flooring solutions that offer non-slip surfaces and are far more durable than what our competition can offer. We are always innovating our epoxy flooring solutions and this is why we can offer more benefits than anyone else.
We are the Epoxy Flooring Experts
When it comes to applying epoxy flooring, it needs to be done in a certain manner to be effective and look great. This is why we have crews that are specifically trained for epoxy flooring projects. When an EverLine crew arrives at your property, you can be assured you are getting experts who have experience in epoxy flooring applications and have the knowledge to meet and exceed the expectations of your project.
There are some steps your business can take just prior to our epoxy floor crew's arrival to make sure our services can be done efficiently and in a timely manner. First, please make sure the surface we are applying epoxy flooring is clean and clear of any debris. This will ensure we can deliver a high quality end result. Second, please put up signs to let people know of the floors so that they do not walk through wet epoxy. If someone does walk through wet epoxy, it will ruin any work that has been completed.
Ensuring your business receives the best value on epoxy flooring solutions is very important to us at EverLine Coatings and Services. This is why we do not offer flat rate pricing — instead, our pricing is based on a per job basis. The price of a project can fluctuate based on the volume, difficulty, traffic and materials being used on site. It is important we gather all the details of your project and learn about your budget so we can provide a quote that works for your business.
If you are in need of a quote for an epoxy flooring project, please contact us.