Power Washing in Edmonton
Our Edmonton EverLine location provides professional, high quality power washing services to all of Edmonton and surrounding communities. We use top notch equipment with highly trained individuals to make your property shine!
About our Edmonton Power Washing Services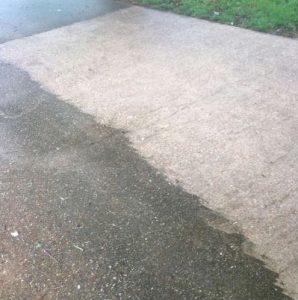 Is your property looking dirty or losing it's shine? EverLine Coatings and Services has the perfect solution for you. Our power washing team can have your property looking like new again in no time. Our high quality power washing equipment and highly trained team will ensure they get your property as clean as possible without damaging your property. Our teams are trained and experienced in washing sidewalks, pathways, all types of buildings, parking lots and parking garages. Our crew can make brick, metal, concrete or asphalt look brand new again.
Winter can leave all kinds of undesirable things behind in your parking lot. Whether it's covered in salt, gravel or dirt, we can easily get it cleaned up and looking great again. Our power washing crews can get rid of whatever winter left behind. Our power washing services are a great way to help maintain your parking lot and protect your assets.
Not all power washing services are equal. At EverLine, we have a commitment to delivering a quality service like no other. Thanks to our highly trained team and top of the line power washing equipment, we are able to deliver a power washing service that is unmatched by our competitors. One of the core technologies we have over our competitors is our hot water power washers. Washing with hot water is far more efficient in cleaning than cold and gives your property that brand new look.
We are the Power Washing Experts
At EverLine, our expertise comes from many years of experience cleaning different types of properties and surfaces. We also give our staff industry leading training to ensure they're ready to handle any situation and properly clean anything imaginable. Our staff are trained and use the best equipment available on the market to ensure the best quality job every time. Regardless of what type of property or surface is being cleaned, you can trust EverLine to make it look brand new again.
In order to ensure that our crews can provide  fast, effective power washing services when they get to your property, we have a few steps you can take in preparation. Before our crew arrives, please ensure the water at your property is turned on. As we all know, it's impossible to power wash anything without a water supply. Secondly, please clean the area of any debris or obstacles that could interfere with our power washing services to ensure the safety and efficiency of our crew.
Ensuring your business receives the best value on power washing services is very important to us at EverLine Coatings and Services. This is why we do not offer flat rate pricing instead are pricing is based on a per job basis. There are many factors that can affect the pricing of a power washing project and we need to know your project details before providing a price. Through working with your business we can provide a price that will work within your budget. If you require a quote for a power washing project you need completed please contact us.
Phone: (780) 399-2555
Address:
202 Cree Road
Sherwood Park, AB T8A 4E8
Contacts:
General Manager – Dylan McCann
Surrounding Communities Serviced
Leduc
Spruce Grove
Stony Plain
St. Albert
Sherwood Park
Fort Saskatchewan
Wetaskiwin