Durable Pavement Maintence Solutions From EverLine Coatings
As Canada's second sunniest city, Edmonton's sun can deteriorate pavement quickly. This can cause problems with asphalt and other paved surfaces, such as cracks. Our pavement maintenance service can help!
EverLine Coatings can take your current pavement and make it like new again with one of the market's top products at a far more affordable price. We know that your parking lot is one of the most valuable things you have protecting your business, but it shouldn't be too expensive to fix.
What Can EverLine Do for Parking Lot Maintenance?
EverLine is the industry leader in pavement maintenance. Our quality product combined with our certified, knowledgeable technicians can give you our best work quickly, so you can stay focused on your Edmonton company's needs.
Your parking lot is an asset to your business, but most owners don't realize the problems with their parking lots until it is too late. EverLine can help by:
Filling the cracks in your pavement and minimizing pothole damage by preventing the water from entering the cracks and causing these problems.
Sealing your parking lot by creating a waterproof barrier that restores your asphalt to like-new condition.
Bright, visible parking lines direct traffic, enforce rules, and encourage safety in your lot, while faint lines can lead to wrong-way driving, mismanaged parking, and liability concerns.
Well-maintained asphalt can last for years; however, rocks, gravel, oil, water, and debris can cause your pavement to deteriorate. Our pavement maintenance services can restore your asphalt to its original state to ensure long-lasting performance.
From signs to speed bumps, keeping your parking lot accessories in great shape can help communicate important safety, speed, and directional instructions in your lot.
Preventative and proactive pavement solutions
Before
After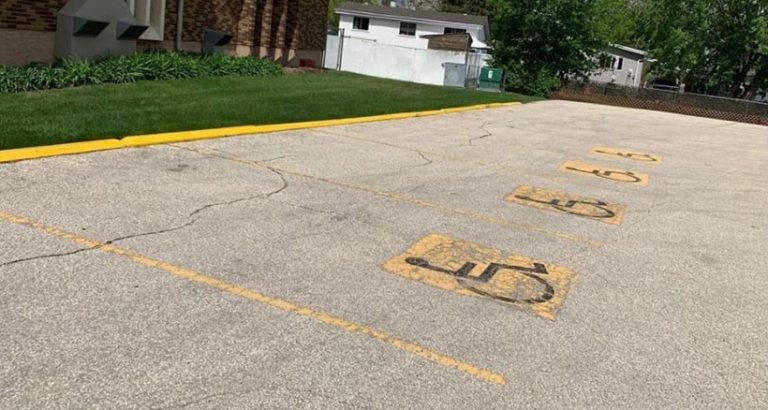 Can I Trust Everline To Take Care of My Company's Pavement Maintenance Needs?
Absolutely. EverLine works under a CORE quality system. We will do the job right and to quality standards, but we will also make sure you are informed of every step of our process.
Here are some things you can count on EverLine to do:
We will use high-quality products.
We will help you with long-term solutions to make a greater ROI for you and your business, including offering information about our preventative maintenance pavement repair program.
We will make sure your pavement and parking lots are as worry-free as possible, by handling as much as we can for you.
We understand you have more to do than worry about your parking lots, parking garages, and parkades. Our expertise in pavement maintenance means you won't have to.
Trust EverLine and our highly trained and knowledgeable local technicians to get the job done right, the first time. We have an office right here in Edmonton. Our quality standards are among the highest in the pavement maintenance industry, and we can't wait to work with you!
Phone: (780) 399-2555
Address:
9840 62 Ave NW
Edmonton, AB T6E 0E3
Contacts:
General Manager – Doug Manson
Surrounding Communities Serviced