Line Painting in Edmonton
EverLine Coatings' parking lot line painting services help Edmonton property managers maintain attractive and easy-to-navigate parking lots.
EverLine's Parking Lot Line Painting Services for Edmonton Properties
Edmonton, Alberta is a friendly place to live and a busy place to own or manage a business! As a property manager, you have many responsibilities. One thing you don't want to do is manage pavement maintenance projects such as parking lot line painting. That's where Edmonton's EverLine Coatings and Services can help.
The EverLine Coatings Difference
At EverLine Coatings, we know you want to keep it simple. As a reliable line painting contractor, we ensure your line painting project is coordinated properly. You can count on us to handle it, so you won't have any extra hassles.
Our Parking Lot Line Painting Services Include:
New parking lot striping – We can help you design a safe traffic flow.
Re-striping existing lots – Our skilled crew will enhance your parking lot's appearance by adding clear, bright, attractive marks.
Specialty markings – Our experts can create customized markings, such as branding.
We know it may be tempting to choose the lowest bid for your parking lot line painting service, but a cheaper price often means cheaper paints that won't last as long and may even fade in less than a year.
EverLine Coatings uses high-quality TBL Durables paints, which means you won't need as many touchups. In fact, our clients report a 20-30% savings over three years!
We carry the exclusive North American license for private application of TBL Durables, the leader in the traffic paint industry.
TBL Durables are 3-4 times more durable than other traffic paints, ensuring you a higher ROI from your property.
Before
After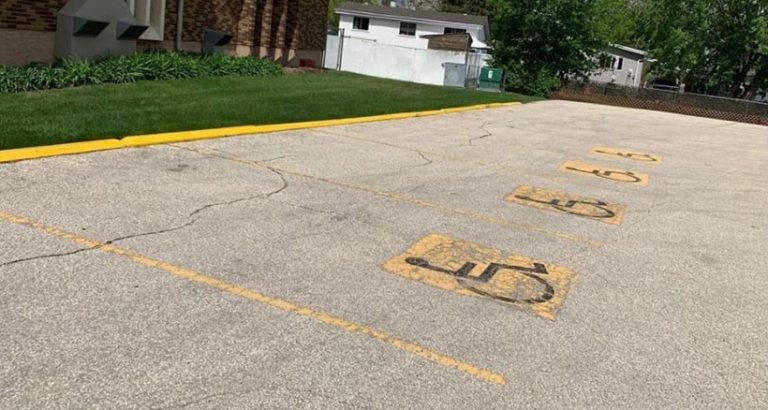 Your Edmonton Parking Lot Line Painting Experts
As the capital of Alberta, Edmonton is a bustling city! Savvy Edmonton property managers know what it takes to keep up appearances for customers. At EverLine Coatings, we are fully committed to providing you with responsive customer service and exemplary results. Want to learn more about our parking lot line painting service? Contact us to request a quote!
Phone: (780) 399-2555
Address:
9840 62 Ave NW
Edmonton, AB T6E 0E3
Contacts:
General Manager – Doug Manson
Surrounding Communities Serviced
Leduc
Spruce Grove
Stony Plain
St. Albert
Sherwood Park
Fort Saskatchewan
Wetaskiwin