Warehouse Floor Markings & Interior Line Painting in Edmonton
Choose Edmonton's preferred warehouse floor marking service for long-lasting markings that create a safe, efficient workspace while maximizing your budget.
Give a Clear Sense of Order & Direction with Warehouse Floor Markings for your Edmonton Business
Our workplaces today are busy, bustling with activity from machinery, equipment, and team members hard at work. In manufacturing facilities, warehouses, stores, and more, this can present safety hazards for your employees, visitors, and vendors as they try to navigate it all.
EverLine Coatings and Services in Edmonton offers attractive and effective warehouse floor marking services to help you convey important information, create boundary lines for areas of heavy traffic, and help visitors, employees, and motorized vehicles safely navigate through your building.
First-Rate Warehouse Floor Marking Services
At EverLine Coatings, we know that your facility is an investment—that's why we're here to help you protect it and maximize the services you pay for.
Edmonton's EverLine Coatings is located right in your neighborhood, which is why we care so much about the success, safety, and efficiency of your business and facility. We'll provide friendly service and deliver long-lasting results to help you make the most of your investment.
How We'll Help Your Edmonton Facility Thrive
Edmonton isn't just a booming urban centre; it's also surrounded by some of the most beautiful wildlife in the region. Life in Edmonton is too short to worry about the quality of your facility's floor markings. We'll handle your warehouse floor marking projects with professional attention so you can focus on what matters most. The project possibilities are endless, but can include:
Forklift traffic markings

Aisle stripes

Employee walkways

Basketball court lines

Safety hazard markings

Industrial-grade epoxy applications

Slip-resistant floor coatings

And much more
See for yourself how our interior line marking services can create a safer, more well-ordered facility — connect with our team to request a free quote today!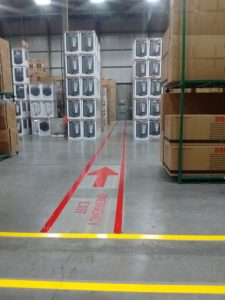 Phone: (780) 399-2555
Address:
9840 62 Ave NW
Edmonton, AB T6E 0E3
Contacts:
General Manager – Doug Manson
Surrounding Communities Serviced