Power Washing in Durham Region
Our Durham Region EverLine location provides professional, high quality line painting services to all of Calgary and surrounding communities. We use premium materials and equipment and can work within your business's budget.
About our Durham Region Power Washing Services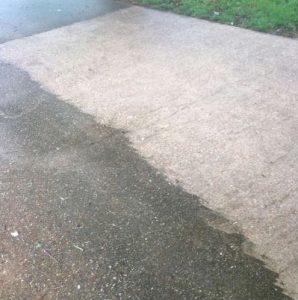 Snow, rain, and strong winds can leave properties in Peterborough, Lindsay, Pickering, Ajax, Whitby, Oshawa, Bowmanville, and the Durham Region covered in salt, gravel, dust, or dirt. A dirty looking property can have a negative impact on how your business is perceived by your clients. The best way to keep it looking amazing is by adopting a regular cleaning and maintenance routine. This is well worth the effort as it will help your property stand out to your customers.
If your property needs a good cleaning, trust the Peterborough power washing experts at EverLine Coatings and Services to get the job done right and make your property look amazing. We have rigorously trained Peterborough power washing crews that use the industry's best power washing equipment to make properties and businesses in the Durham Region shine like they are brand new again.
Our crews have had extensive amounts of training and experience with power washing Peterborough sidewalks, buildings, parking lots, and parking garages. Whether you need a brick, metal, or concrete surface cleaned, EverLine's Peterborough power washing services will have it looking like new again in no time.
Not all power washing services in the Durham Region are the same. At EverLine Coatings and Services, our Peterborough professional pressure washers have established themselves as the leaders in the Canadian power washing industry. Our crews specializing in property and sidewalk cleaning in Peterborough are committed to providing high-quality power washing services that will exceed your expectations. In order to make sure we are delivering the best Peterborough power washer services possible, we train all of our team members to deliver the best results.
We also believe that being dedicated to innovation in the Peterborough pressure washing industry is one of the keys to our success in delivering services that surpass the abilities of our competitors. Our Peterborough power washing crews use hot water power washing equipment to ensure we are on the cutting edge and providing the best service possible. By using hot water, we can cut through the grime and dirt left on your surfaces more effectively when washing them and really make your property look amazing again.
We are the Power Washing Experts
So what makes EverLine the pressure washing experts in Peterborough, Lindsay, Pickering, Ajax, Whitby, Oshawa, Bowmanville, and the Durham Region? The Peterborough pressure washing crews at EverLine have established themselves as experts with their years of experience, the rigorous ongoing training that they receive, and their years of service delivering amazing results with our Peterborough pressure washing services. Our Peterborough power washing crews have been cleaning properties and surfaces in the Durham Region for decades and have learned the most effective and efficient ways to clean your property.
No matter how dirty your property is, or how difficult it may be to clean, our crews have seen it all and cleaned it all before. Our crews understand that just being experienced isn't enough to deliver outstanding results. This is why they have committed to regular training on the latest techniques to clean a property and complete our sidewalk cleaning services in the Durham Region. In order to continually innovate, our crews must stay up to date with the latest equipment and cleaning methods. By training our crews with the most recent information available, we ensure they are on the cutting edge of power washing services for the Durham Region. We can confidently say that our Peterborough power washers are the best in the industry.
To ensure that our Peterborough power washing crews can clean your property effectively and perform their services in a timely manner, there are some steps you need to take before they arrive at your property. 
First and most importantly, please ensure that the water at your property has been turned on. If there is no water, there is, unfortunately, no way for us to provide our power washing services for your property. We need a water supply to be able to provide our services.
Secondly, please ensure any obstacles or large pieces of debris that could impede the power washing process have been removed from the area to allow our crew to work safely and efficiently. This will ensure that they are able to access all of the areas that need to be cleaned. We cannot offer our Peterborough sidewalk cleaning services or power washing services without these steps being taken in preparation of our crew's arrival. If it is not possible to move all obstructions before starting the Peterborough power washing project, our crews will complete the project to the best of their abilities given the obstructions that exist.
At EverLine Coatings and Services, we are focused on offering the best possible prices for our clients and ensuring we deliver as much value as possible. For these reasons, all of our Durham Region power washing services are quoted on a per-job basis.
There are many different factors that can affect how much our Durham Region power washing services cost. Things like square footage, the surface material, and other things can change how much it will cost for our crews to clean a property.
We learn about all the details of your property before quoting you a price for a power washing or sidewalk cleaning project in Peterborough to ensure we deliver the best value possible. Our crews will work closely with you to ensure we can deliver top-quality services that fit within your budget. If you would like to receive a quote for your upcoming power washing project, please contact our Durham Region office today.
Phone: (905) 242-1896
Address:
49 Taylor Blvd, Unit 1
Port Perry, ON L9L 1B2
Contacts:
President – Kyle Hlozan
Serving the Greater Durham Area Including:
Peterborough
Lindsay
Pickering
Ajax
Whitby
Oshawa
Bowmanville
Minden
Haliburton
Bancroft
Fenelon Falls
Bobcaygeon
Lakefield
Peterborogh
Cambellford
Kawartha Lakes
Port Perry
Newmarket
Shelburne
Orangeville
Beeton
Tottenham
Bolton
King City
Bradford
Keswick
Sutton
Peterborough
Lindsay
Pickering
Ajax
Whitby
Oshawa
Bowmanville