Interior Line Painting in Durham Region
At EverLine Coatings we offer a number of interior line painting services to Durham Region businesses. These services include safety and production flow floor markings, plant and warehouse forklift traffic line markings and parking garage and parkade line painting.
About our Durham Region Interior Line Painting Services
One of the most important things you can invest in for your business is precise and durable line markings for inside of a commercial building or warehouse. Line markings are essential for everyday operations and the safety of your employees. EverLine Coatings and Services offers a variety of interior line painting services in Peterborough, Lindsay, Pickering, Ajax, Whitby, Oshawa, Bowmanville, and the Durham Region.
Our experienced Peterborough interior line painting crews can easily complete any interior line painting project that you need. EverLine Coatings and Services has been painting warehouses and commercial buildings for decades! Whether you're in need of a simple repaint, improving your line markings or layout, or looking to plan an entirely new one; our interior line painters in Peterborough can help. We've completed a variety of Durham Region line painting projects of various shapes and sizes. We have experience painting line marking for many different applications and can consult you on the best way to complete a project.
So why choose EverLine Coatings and Services as a painting contractor in Peterborough and the Durham Region? Because when you work with us, you get the Everline advantage. We have invested a lot of time and resources in training our Peterborough painting service professionals. Our teams have needed skills to take on any job you need them to. We always deliver our durable line markings with precision and care and that is our promise. Our industry-leading interior line painting services in Peterborough come paired with some of the best customer service in the industry too. We are wholly committed to providing you a service that cannot be matched by the competition in the Durham Region.
We offer flexible hours with our multiple interior line painting crews in Peterborough. At EverLine, we are business owners too. We understand you can't have disruptions with your regular business operations from interior line painting crews and waiting for paint to dry. To avoid any interruptions to your business, we offer overnight and off-hours line painting services so that we can work around your schedule. EverLine's crews will come in and complete your line painting project in Peterborough after your business is closed for the day or the week! You'll have fresh interior line markings when you come back to work.
We are the Interior Line Painting Experts
At EverLine Coatings and Services, we are considered line painting experts in the Durham Region line painting industry. This is because EverLine has been proudly serving our happy interior line painting customers in Peterborough, Lindsay, Pickering, Ajax, Whitby, Oshawa, Bowmanville, and the Durham Region for decades. As the true Peterborough interior line painting professionals, we understand that floor markings and forklift traffic line markings must be implemented with an intelligent strategy to ensure warehouse or commercial building safety and efficiency.
Our interior line painting crews in Peterborough have decades of experience with completing various interior line painting projects. EverLine has used products ranging from line paint to epoxy and even urethanes for warehouse applications! Our experience providing interior line painting services in the Durham Region is unmatched. We know that no two interior line painting projects are alike. We approach every project differently to ensure that we are getting the right results. Our experience enables us to provide the perfect solution for each unique type of facility and surface.
EverLine will provide your business with the perfect line marking products based on your unique budget, we will find a working time window for your business to complete the project, and our line marking solutions will greatly exceed your durability expectations. Our multi-crew approach enables us to work quickly and efficiently to ensure little or no disruptions to your business' operations. What more could you ask for in a Peterborough interior line painting company?
If you are using our Peterborough interior line painting services in the near future, there are a few things we ask you to do in order to prepare your warehouse or commercial building before our Durham Region interior line painters arrive.
Please ensure the warehouse or commercial building floor or surface we will be working with is clean and has been cleared of any debris.
Please remove all objects, vehicles, and any other obstructions from the surface that could impede our ability to complete the project during our visit. We need to access the entire surface!
Please notify your employees and the users of your property. Post notices that our crews will be performing interior line painting work on your property.
Please place wet paint or coating notices on your property. Anyone that walks or drives a forklift through the wet interior line paint will ruin any work we have completed.
At EverLine Coatings and Services, the safety of our Peterborough commercial painters is our top priority. If you require assistance with cleaning the surface of your commercial building or warehouse before our Durham Region painting contractors begin painting, please inquire about our surface cleaning, sweeping, or power washing services. Our cleaning surfaces are a great way to prepare your surface for us to paint interior line markings. Following this protocol will ensure a safe, effective, and timely completion of our services so we can produce better results for any interior painting project in the Durham Region.
Interior Line Painting Pricing
At EverLine, we do not believe in flat pricing for our Peterborough interior line painting projects. To ensure we are delivering the absolute best value to all of our clients, we do all of our pricing on a per-job basis. From our years of experience, we know that pricing can fluctuate based on the volume, difficulty, traffic, and materials being used on a particular project. In order to provide the best value to our customers, we need to learn all the details about your upcoming Peterborough interior painting project before providing a quote.
If you would like a quote on your upcoming interior line painting projection Peterborough, Lindsay, Pickering, Ajax, Whitby, Oshawa, Bowmanville, or the Durham Region, please contact EverLine Coatings and Services' Durham Region office today. We would be happy to assist you!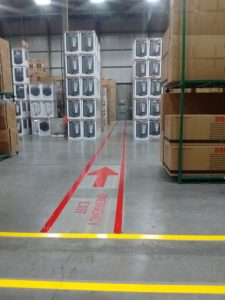 Phone: (905) 242-1896
Address:
49 Taylor Blvd, Unit 1
Port Perry, ON L9L 1B2
Contacts:
President – Kyle Hlozan
Serving the Greater Durham Area Including:
Peterborough
Lindsay
Pickering
Ajax
Whitby
Oshawa
Bowmanville
Peterborough
Lindsay
Pickering
Ajax
Whitby
Oshawa
Bowmanville