This month, we're going to show off our artistic side a little bit. Although regular road line painting and markings are essential for safety and functionality, they aren't the most exciting things in the world. To make things interesting, EverLine Coatings and Services can create custom stenciled designs and road markings that will make your property stand out and cater to any unique needs your business may have. The possibilities are almost endless!
To give you an idea of what you can have stenciled on your property, we've rounded up some of our latest and greatest custom stenciling projects. No matter how intricate the design may be, our custom stenciling crews can make your dreams come true. We love having the opportunity to take on projects like this!
Custom Crosswalk Stenciling
We have completed several custom stenciling projects for customers that wanted to bring their crosswalks to life. Regular crosswalks are effective, but having a custom crosswalk draws significantly more attention and will bring some flair to your property. Custom crosswalks are a great way to improve safety for both pedestrians and motorists.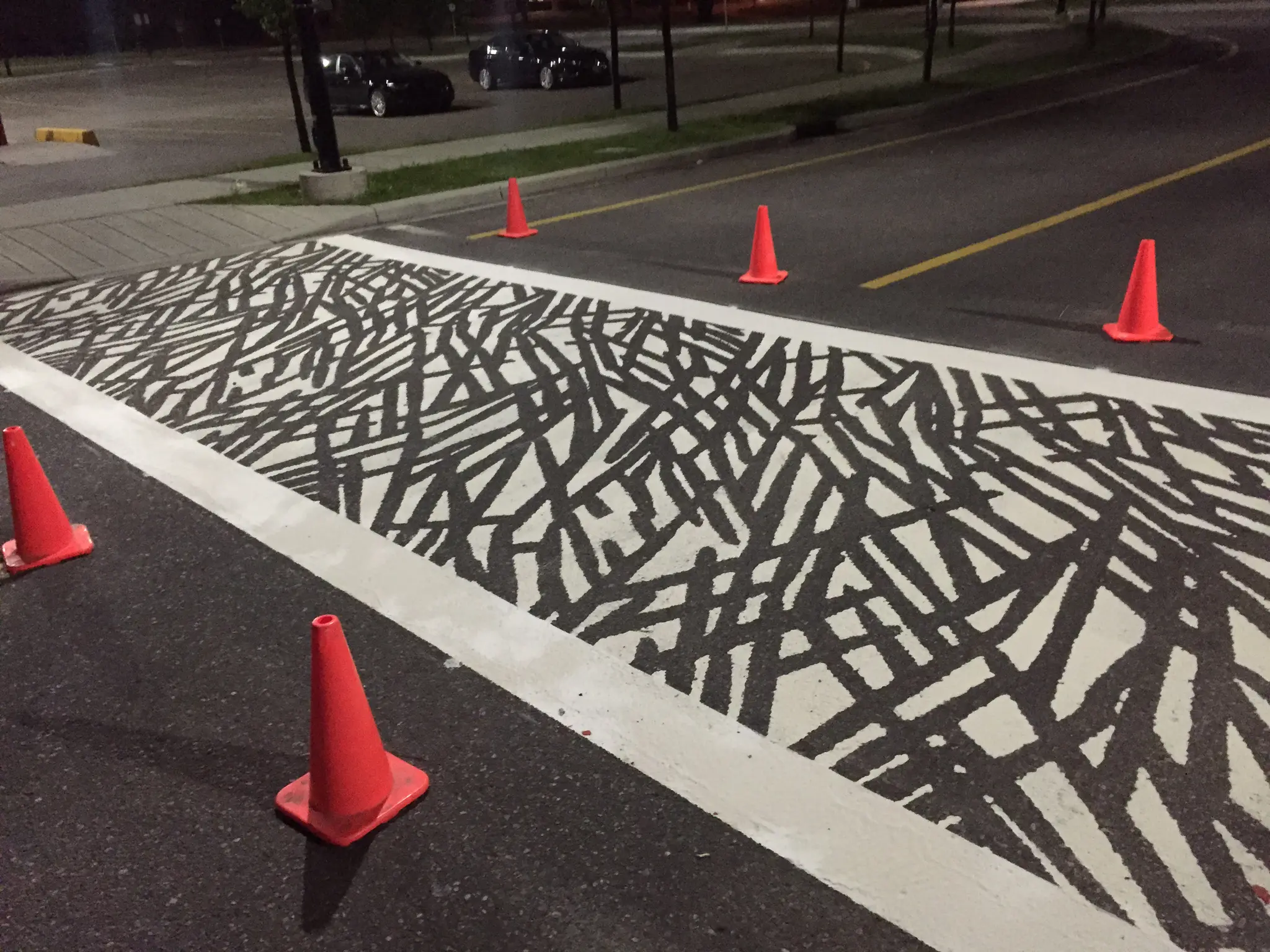 Here's a custom crosswalk we created for the University of Calgary. As you can see, even the most intricate designs are no problem for the custom stenciling crews at EverLine. We can execute anything you want with precision and professionalism to produce great results for all of our customers.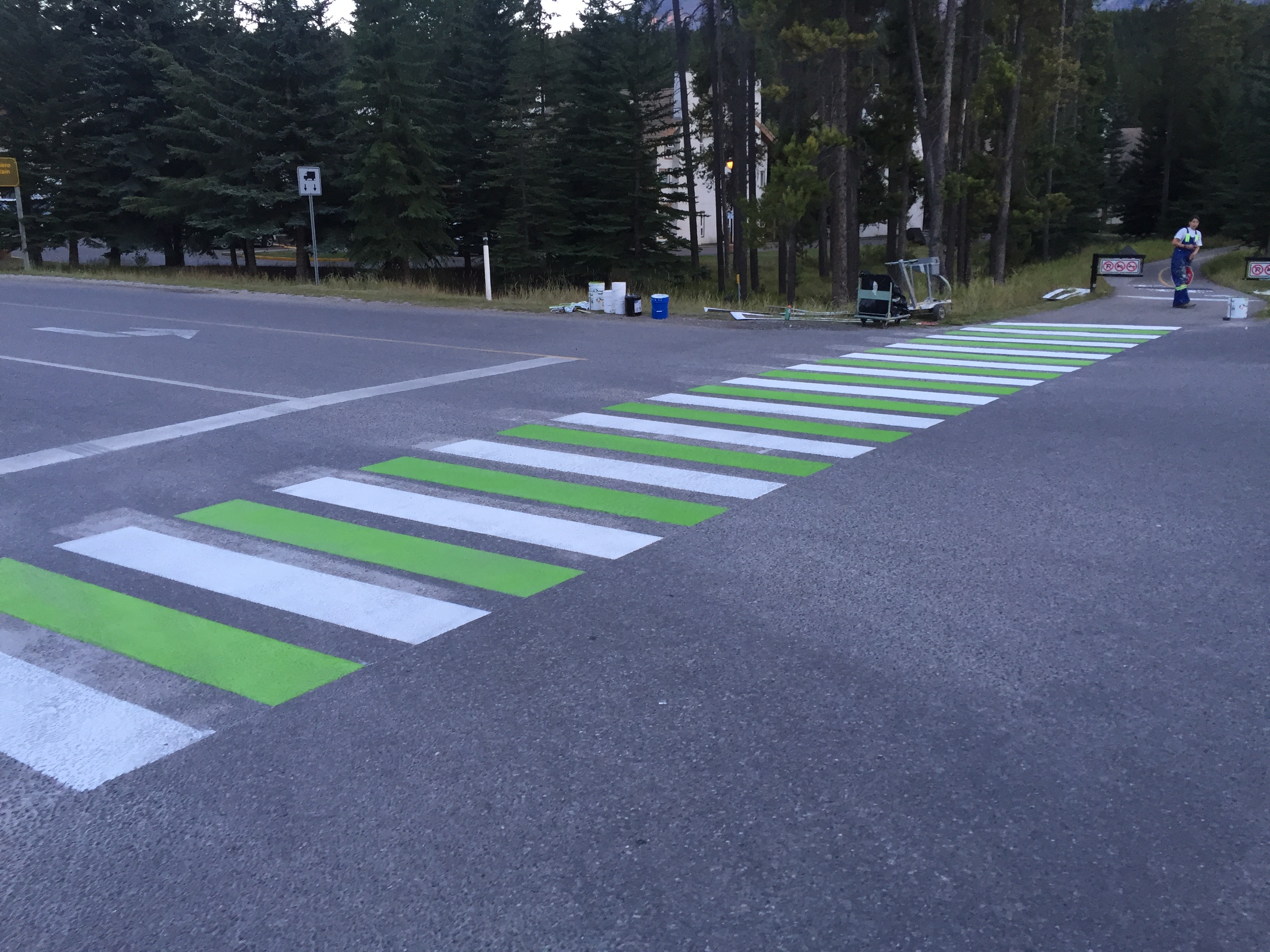 This is a more straightforward design compared to the one above, but it's still an effective crosswalk, and it looks great. Two alternating colours can be a great way to colour coordinate markings with the rest of your property or even match the branding of your business. Think of the possibilities. How would your property look if the markings matched the colours of your brand or building?
Custom Parking Lot Stenciling
We can create a variety of markings with our custom parking lot stenciling services for outdoor parking lots. We've had the opportunity to take on some really interesting projects in the past that we're excited to show you.
Home Depot "Pro" Contractor Parking


We completed a custom parking lot stenciling project for Home Depot so that there would be reserved parking stalls for their "First for Pro" contractor program members. Given that the members of this program tend to be loyal customers and they often tow trailers behind their vehicles, a custom stall solution was needed.
To cater to the contractors in the "First for Pro" program, we stenciled and painted these custom stalls to make it easy for contractors to pull in and out of the parking lot when towing a trailer. The stalls are also within a close proximity of the store, so it's easy for them to carry supplies out to their vehicles after making a purchase.
The Home Depot orange, arrowed lines, and "PRO" labeled stalls ended up looking great! We're really proud of the work our team did on this project. These are some unique parking lot markings that will make Home Depot stand out.
Lamborghini of Calgary


It's pretty awesome getting to see some of your work with some of the most beautiful cars on the planet! Here are some simple angle parking markings we created for Lamborghini of Calgary.
These photos are from the Lamborghini GIRO tour event last year. We painted simple designs so that the dealership and owners would be able to safely park their vehicles in the lot for the event.
Although this wasn't a complex parking lot stenciling project, we can always appreciate a nice vehicle, and it's nice to see our work being used in a unique way.
Parking Stalls on Cobblestone Surfaces


Even if you don't have a paved parking surface, the custom stenciling crews at EverLine Coatings and Services can paint lines and stencil designs on your surface to make it look great.
This is an accessible stall project we completed on a cobblestone surface. It took a bit of extra care and consideration over just painting on a solid surface, but the end result looks fantastic. Our experienced crews can paint clean, crisp lines and designs for your parking lot that will look amazing and last a long time.
Custom Parkade Stenciling
Parkades and indoor parking lots often require custom stenciling just like outdoor parking lots. If there is a low clearance area, a reserved stall, or a special marking needed like the one for the bike rack in the photo below, the crews from EverLine can make sure that people in your parkade can get where they need to and get there safely.




Parkade stenciling and other generic markings are essential for parking lot safety and to prevent damage to vehicles. We've all seen pipes and other structures that have obstructed a stall or reduced the clearance. Having the proper markings in place makes the difference between parking safely and damage occurring to someone's vehicle or your property.
Parkade Walls


In addition to floor markings, our custom stenciling services can be used to paint and label sections of walls and pillars too. If you have a large parking lot, labeling and marking the various sections of the lot is a great way to help people find their vehicles after spending time inside your building.
Our teams go the extra mile to ensure accuracy and precision with every stenciling project we complete. We'll even touch it up with a paintbrush by hand! If you want quality custom parkade stenciling and markings, EverLine Coatings and Services is the way to go.
Custom Pathway Stenciling
Have a pathway that needs stenciling? EverLine has you covered! By using stencils, we can paint markings that will improve the safety and functionality of any pathway. Take a look at the photo above. In this case, two main groups are using the pathway; cyclists and pedestrians.
Our markings clearly describe where the two should go when moving through the gate. If you have something out of the ordinary on your pathway, walkway or sidewalk, our custom stenciled designs can improve their functionality and keep people safe.
Sports Markings
Need lines on your athletic surface? We can paint them. Take a look at the example above; we are able to create lines for any court so you can play a variety of different sports on them. Whether you want markings for a basketball, tennis, or badminton court or maybe even a space for street hockey, we can create custom stencils and markings to make the game possible.
With our TBL Durables paint product, the lines will last for years. You'll be able to keep enjoying your favourite sports with your friends without having to have your lines repainted regularly.
Bike Lane Painting and Stencils


At EverLine, we have experience painting and stenciling pavement to create bike lanes as well. Take a look at this bike lane redirect we created in Calgary. As Canadian cities grow, we see more and more people commuting by bike in order to save the cost of fuel and parking.
Given that we are seeing more bike traffic, bike lanes are becoming increasingly important to keep cyclists safe. We can paint bike lanes and create markings with stencils to help direct cyclists, control bike traffic, and prevent motorists from entering the bike lanes on the side of the road.
Custom Stencils for Your Property
Well, there you have it! These are some of the more unique projects that we have completed. With our custom stenciling services, we can create markings to give your property an extra flare or any unique functionality it may need to keep people safe. For all of your custom stenciling, line painting and road marking needs, EverLine Coatings and Services is here to help.