There are some crazy parking lot designs out there! In this article, we'll go over some of the world's craziest parking lot designs as well as some of the interesting ones the experts at EverLine Coatings and Services created. At EverLine Coatings and Services, our highly trained crews can help you plan your new parking lot layout with the latest parking lot design standards. We combine aesthetics and functionality to create world-class parking lot solutions for our clients.
Interesting Parking Lot Layouts
The layout of your parking lot is critical when creating effective parking solutions on your property. Every parking lot layout needs to be planned with safety, efficiency, and convenience in mind. If you want to create a better parking lot layout for your property, the highly trained crews at EverLine can help. We have decades of experience planning and creating effective parking lots that have exceeded our clients' expectations. Here's some inspiration to pique your interest!
Parking Lot Layouts that Prevent Damage to Vehicles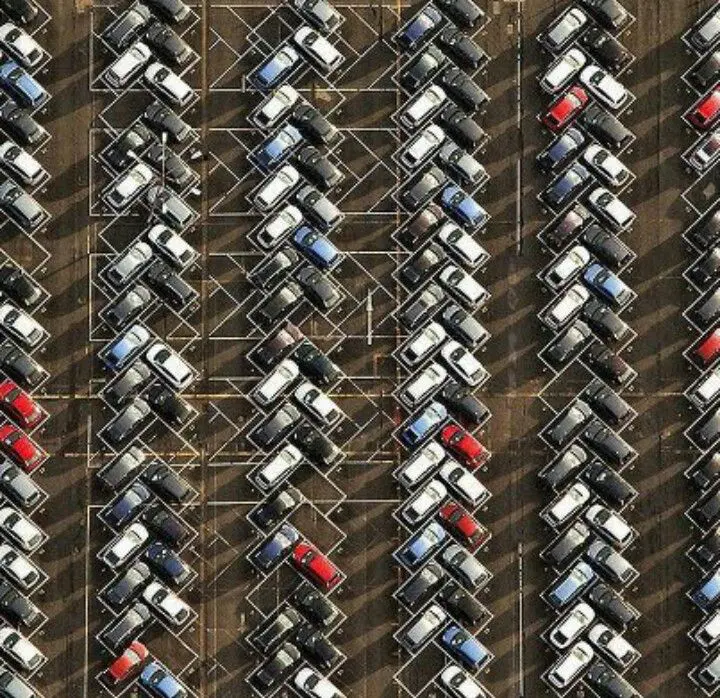 Here's an example that stood out to us! This staggered parking lot layout prevents door dings from occurring. The idea is that by angling and staggering the vehicles, there is more space for drivers to open their doors and get out of their vehicle. It's a pretty interesting concept if you ask us! If you're having problems with parking lot users damaging other vehicles, this parking lot layout would be an excellent solution for your lot.
Beautiful Parking Lot Layouts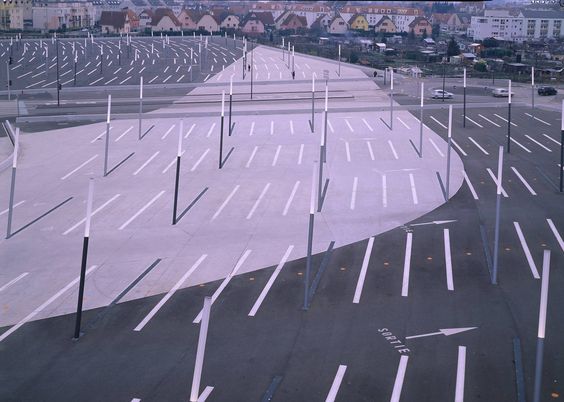 Here's another neat parking lot layout! In this parking layout, the angled parking stalls follow the curvature of the design that has been painted on the lot. Some of the parking stall markings have also been painted to look like they're just a shadow of one of the posts. This is an excellent example of where aesthetics meets functionality to create something great. The parking lot has plenty of stalls for lot users to park in and still looks great!
Cool Parking Lot Designs
Even if you don't want to deviate from a traditional, square parking lot layout, EverLine can create attractive parking lot designs that will make your parking lot stand out from the rest. If you want to create unique stalls, brand your parking lot, or give it some extra flare, we can make it happen!
Minimalist Designs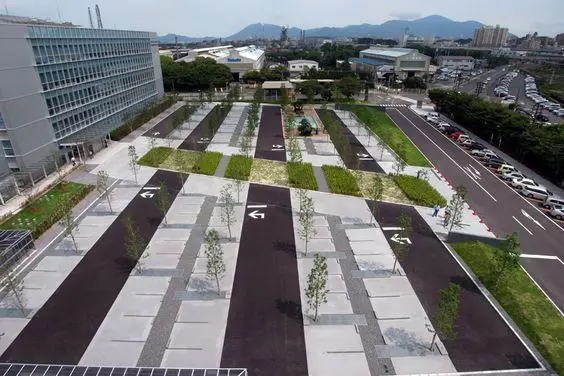 This parking lot uses a traditional parking layout but uses parking blocks instead of regular markings. The only markings in this lot are the ones indicating which way motorists should be pulling into the stalls in the particular parking row. This is a simple yet effective parking lot design that looks great!
Parking Lot Designs that Compliment Your Property


A unique parking lot design is also a great way to compliment the overall design of your property. Take the example above, for instance. There is a lot of impressive architecture, design, and landscaping on this property! The parking lot follows a traditional parking lot layout with a simple angled pathway down across it. Although this parking lot design may not be practical for all businesses, it's simple, effective, and it looks great!
Crazy Parking Stalls
One of the most overlooked parts of parking lot design is the actual parking stall design. We create all of our lots according to parking lot design standards and general best practices, but that doesn't mean there isn't room for creativity! We can create exciting markings to make your parking lot stand out. Here are some awesome parking stall designs we have completed and some great ones for inspiration.
One-Sided Parking Stall Markings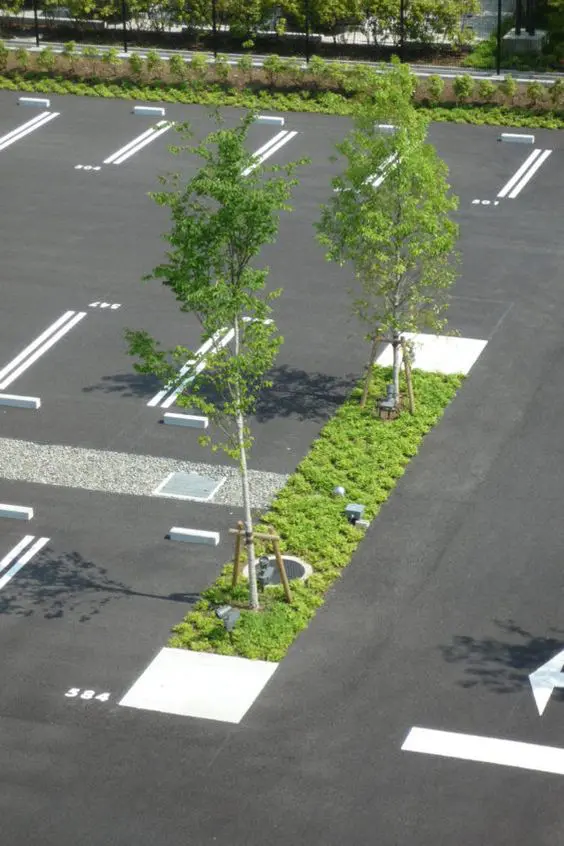 Take a look at these beautiful one-sided parking stall markings! These are a simple, aesthetically pleasing way to mark parking stalls. You see a parking lot with grid style markings almost every day, how often do you see an interesting stall design like this? The stalls are numbered and feature staggered parking blocks to give the stall design some extra pop. This is a great example of how a minimalist parking stall design can make your property stand out.
Special Parking Stalls
Sometimes you need to mark special parking stalls for the different users of your parking lots. Strategically planning the placement of special parking stalls is an essential part of planning your new parking lot layout. Whether it's reserved parking, staff parking, handicap stalls, or for customers, EverLine can create markings that help the users of your parking lot find where they should park with ease.
Home Depot Pro Parking
Here's an interesting parking stall project we completed. The "Pro" program for customers that are regularly making large purchases at Home Depot comes with some perks! Take these Pro member parking stalls we painted for example. These are reserved for members of the Pro program, and they are designed for contractors that are pulling trailers or driving larger vehicles.
The angled stalls make it a breeze for them to get in and out of the lot so they can get back to work with the new building materials they've just purchased. Every business is unique; your parking lot should be too! Think about your business, is there a particular type of customer or a user that would benefit from having a special parking stall like this? Making it easy for users to park, purchase what they need, and get back out is a great way to entice them to make more purchases from you. This could have a significant impact on your bottom line.
Handicap Stalls
Accessibility is also an essential part of your parking lot design. EverLine Coatings and Services can create special parking stalls on any surface to accommodate the users of your lot. Here's an example of some handicap stalls we painted on a cobblestone surface. EverLine's highly trained crews can create markings with precision and professionalism to make sure special stalls like this are visible and that they will look great for years to come!
Let EverLine Create Your Parking Lot Plan
We're experts when it comes to parking design. We have decades of experience creating effective parking lot layouts to improve the parking efficiency, safety, and the convenience of your parking lot. If it's time for you to revamp your parking lot plan, contact the parking design experts at EverLine today.