At EverLine we have highly trained crews and professional grade equipment that allows us to provide power washing services that will have your property looking like new again.
About our Calgary Power Washing Services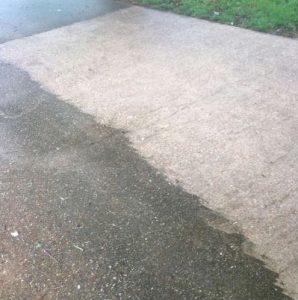 Has your property become dingy or just doesn't shine like it used to? Well at EverLine Coatings and Services we have a solution for you. Our power washing services can have your property looking like new again. We use the highest quality power washing equipment available and highly trained crews to make sure your property shines. Our crews are experienced and trained in power washing sidewalks, all types of buildings, parking lots and parking garages. Whether your surface is brick, metal or concrete we can have it looking like new again.
If winter has left your property or parking lot covered in salt, gravel or dirt we can easily get it clean again. Our crews are experienced in cleaning and maintaining all types of paved surfaces and removing what winter has left behind. If you need to get your business ready for spring our power washing crews can help.
You may think most power washing services are the same but you would be wrong. At EverLine we have an unrelenting commitment to quality and delivering an end result that wows. This is why we have some of the most high quality and innovative power washing equipment available. In fact one power washing innovation that helps us stand out is that all of our crews use hot water power washers. By using hot water we are able to cut through the grime and dirt left on your surfaces even more effectively and really make your property shine.
We are the Power Washing Experts
At EverLine what makes us experts is our years of experience cleaning all types of surfaces and properties, along with our in depth training programs. To ensure power washing services are effective and provide a high quality end result highly trained crews are necessary. This is why we have made a commitment to ensure all of our power washing crews are properly trained and are provided with the best power washing equipment available. No matter the property and no matter the type of surface we can have it looking like new again.
To ensure our power washing crews can provide effective power washing services when they arrive at your property there are a few steps you can take to prepare. First please make sure the water at your property is turned on, after all there can't be any power washing done if there is no water. Second please ensure any obstacles or large pieces of debris are removed from the surface that we will be cleaning.
Ensuring your business receives the best value on power washing services is very important to us at EverLine Coatings and Services. This is why we do not offer flat rate pricing instead our pricing is based on a per job basis. There are many factors that can affect the pricing of a power washing project and we need to know your project details before providing a price. Through working with your business we can provide a price that will work within your budget. If you require a quote for a power washing project you need completed please contact us.
Phone: (587) 352-4950
Address:
6910 Farrell Rd SE
Calgary, AB T2H 0T1
Contacts:
General Manager – Doug Manson
Surrounding Communities Serviced