EverLine's Parking Lot Line Painting & Asphalt Repair Services
Inglewood may be small, but our little community boasts lots of businesses, and EverLine Coatings provides the services they need to keep their parking lots safe and attractive. We are proud to offer line painting and asphalt repair and sealcoating to keep your Inglewood, Alberta, parking lot in great condition.
Parking Lot Line Painting

Parking lot line painting is about keeping your lot clear and easy to understand, preventing accidents. It's also about choosing a high-quality product that will last so that you don't need to go through the hassle of repainting your parking lot lines anytime soon. We offer TBL Durables, the leader in the traffic paint industry, which itself offers 3-4x better durability than the competition.
Don't bother with older asphalt repair techniques. We offer infrared asphalt repairs, which gets seamless results in less time for less money. It recycles more of your asphalt too, which means it is better for the environment. Discover why our asphalt repair process is superior by talking to one of our team members today.
Our Asphalt Maintenance Work
Before
After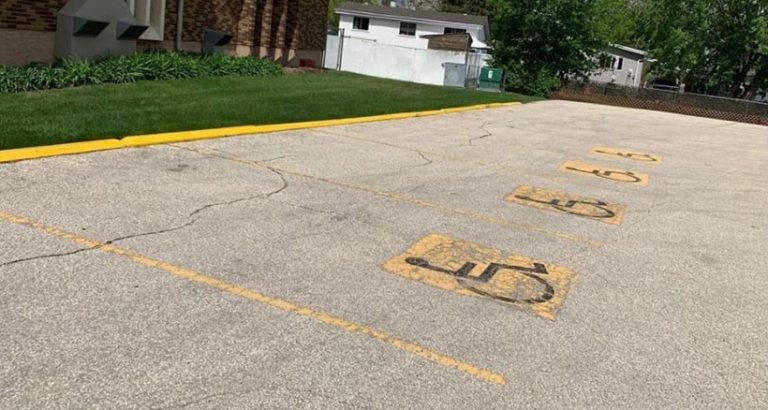 Sealcoating your asphalt will give it a fantastic, smooth look, increased grip for tires, and a "new" look for much longer than unsealed asphalt. Plus, it can significantly extend its lifespan and reduce the repairs that it will need.
Why Work with Inglewood's EverLine Coatings?
EverLine Coatings offers so much more than the average contractor can. That includes aesthetic excellence. Every customer will judge your company and your diligence by how your parking lot looks. We protect your good reputation by ensuring it looks as good as it can. One of the ways we achieve this is by blacking out old lines instead of painting over them with a stencil that may not quite match.
Also, we offer advanced knowledge and techniques, but on your end, every aspect of caring for your parking lot is simple. We make it easy for you to juggle managing your lot with the other things that are on your plate. We take care of the work and present you with a report, so you won't feel like our process is taking up too much of your time.
Choose the Best Pavement Maintenance Team in Inglewood
Whether you're offering music, art, cultural experiences, or selling almost anything in Inglewood, you need an attractive parking lot. Reach out to our EverLine Calgary team today to discuss any of the parking lot services you need in Inglewood, including parking lot line painting, interior line painting, asphalt sealcoating and asphalt repair.
Phone: (587) 352-4950
Address:
6910 Farrell Rd SE
Calgary, AB T2H 0T1
Contacts:
General Manager – Doug Manson
Surrounding Communities Serviced