EverLine Coatings' Exceptional Services
As a property manager in Airdrie, AB, you want your parking lot to not only function well, but also to look as good as possible. The parking lot line painting service from EverLine Coatings makes sure that the lines marking out your parking spots are clear and bright. Meanwhile, our asphalt repair service makes sure that the pavement is smooth and easy to drive on. We make it as easy as possible for you to maintain your parking lot, so you can focus on running your business.
Parking Lot Line Painting in Airdrie

It's important to make sure your parking lot's lines are easy to see. EverLine Coatings doesn't just paint over old lines that have worn away. We cover up the old marks with black and then paint new lines. This creates sharp, clear lines that tell drivers exactly how to use your parking lot. We can paint regular parking lot lines, as well as special markings like company logos.
We know that you want your new lines to stay in place for as long as possible. We use TBL Durables traffic paint to help us provide this kind of durability. This high-quality brand lasts longer than other brands, so you won't need to repaint the lines as often.
When wet weather and freezing temperatures come together, cracks, fissures, and potholes can form in asphalt. EverLine Coatings uses a method called infrared asphalt repair to fill in potholes and make your parking lot pavement smooth again. The finish is exceptionally good when this method is used. Once the repair is complete, we clear away any loose aggregate.
Get in touch with us right away if you need asphalt repair. We make sure that repair projects run smoothly by coordinating them carefully. As a busy property manager, you can focus your attention on other priorities while we fix the parking lot.
Our Asphalt Maintenance Work
Before
After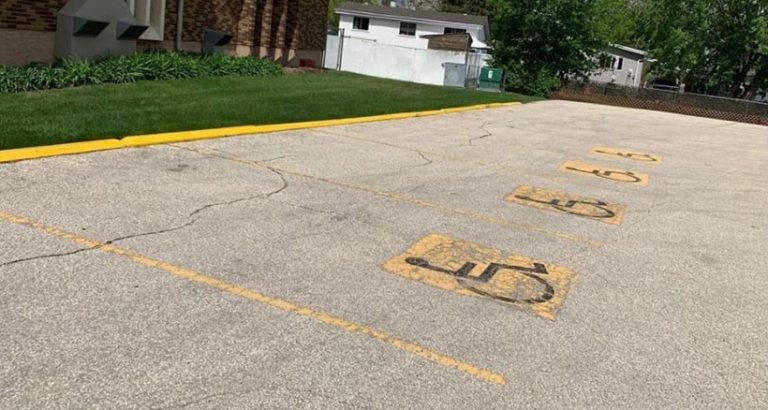 Asphalt Sealcoating in Airdrie
Sealcoating your asphalt is a great way to keep it in good shape for a long time. Contact us today and ask about our asphalt sealcoating service if you want to save money on parking lot repairs. We use an asphalt-based coating that we spray on the pavement to protect it and stop cracks from appearing. The result is a surface that is smoother and gives drivers a lot of comfort.
Here are some of the most important reasons why EverLine Coatings' asphalt sealcoating service is superior to that of our competitors:
We never water down sealants
Before we start, we fix and clean the surface
We then put on two coats of sealant to make the surface better and last longer
Our sealant products are made to work in both very hot and very cold weather
Use EverLine Coatings and Services For Parking Lot Repair and Line Painting in Airdrie
As one of the fastest-growing towns in Alberta, Airdrie is popular with both tourists and would-be residents. The cold climate is harsh on local parking lots, but you can keep yours in good condition with EverLine's parking lot line painting and asphalt repair services. Contact us right away for a free estimate.
Phone: (587) 352-4950
Address:
6910 Farrell Rd SE
Calgary, AB T2H 0T1
Contacts:
General Manager – Doug Manson
Surrounding Communities Serviced