Interior Line Painting Calgary
EverLine Coatings' interior line painting services help Calgary businesses improve traffic flow and communicate important safety messages.
As a property or facility manager of a commercial business or warehouse in Calgary, one of your main responsibilities is keeping employees and patrons safe. Busy warehouse floors are challenging environments that often include dangerous equipment, prohibited areas, and complicated traffic patterns. One of the best ways to prevent accidents is with clear interior line markings.
EverLine Coatings provides expert interior line painting services for Calgary businesses. At EverLine Coatings, we understand that every facility has unique requirements, so we will work with you to create a customized interior line painting plan for your warehouse or commercial facility.
The Importance of Warehouse Line Painting and Line Marking
In addition to creating a more attractive workplace, warehouse line painting and line marking have a variety of important benefits including:
Maximizes efficiency
Minimizes risk and liability
Communicates important messages
Creates boundaries in heavily trafficked areas
Tells employees which direction to move in
Keeps employees out of prohibited areas
At EverLine Coatings, we have three different types of interior paint products so you can choose the one that is best for your Calgary area business:
Traffic Paint System
Low-cost
6-12-month lifespan
30-minute application time
Best for low-traffic warehouses
Industrial Grade Epoxy Paint
Mid-range cost
12–36-month lifespan
12–16-hour application time
Best for heavily-trafficked warehouses
EverLast 2.0 Coating System
High-end product
24–72 month lifespan
12-16 hours each for the first and second coat
Provides exceptional protection for all types of buildings with bright, visible, and easy-to-maintain markings
Premium Calgary Interior Line Painting Services
EverLine Coatings is one of the most experienced line painting companies in all of Canada. We can handle any interior floor marking project for Calgary property and facility managers. Our multiple crews mean we can work quickly and efficiently with minimal disruptions to your business, whether it runs during the day, night, or both. Contact us to request an estimate!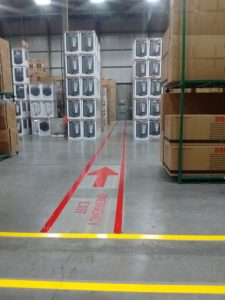 Phone: (587) 352-4950
Address:
6910 Farrell Rd SE
Calgary, AB T2H 0T1
Contacts:
General Manager – Doug Manson