Superior Line Painting & Pavement Maintenance in Calgary
The EverLine Coatings Calgary office provides a full spectrum of painting, line painting and parking lot sweeping services. Our Calgary office employs a large number of crews specializing in each service we provide.
Our clients save 20-30% over 3 years with our exclusive TBL traffic paint product.
From clear markings to slip-resistant coatings, we help you keep people safe.
Properties that look great create more value for employees and customers.
EverLine Coatings Removes the Stress From Property Maintenance
EverLine Makes It Simple To Keep Your Property Performing
Before
After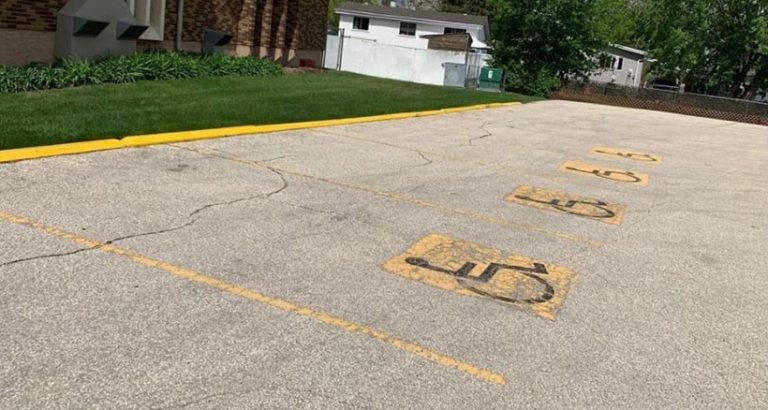 EverLine Coatings can help transform your paved surfaces! Request a free quote and get a your customized digital proposal. All of our proposals come with a personal video walking you through all the details of your scope of work. This means you will know what to expect before your project begins!
More About Your Calgary EverLine Coatings
When Doug started in the property management industry 15 years ago, he found one of his biggest challenges was finding good quality, reliable contractors to service the properties he managed.
He saw a need and an opportunity, so almost a decade ago started his own property service company to provide a more professional approach to the industry.
He has a comprehensive understanding of what EverLine's clients need and want, and this allows him to work with a client to provide a tailored service package that fits their budget and ensures that properties are safe, well maintained, and look great.
Doug Manson – General Manager
Call or fill out the form to get a detailed scope of work, including a personalized video explaining exactly what work will be completed.
We'll make sure your project is coordinated properly with no hassle, so you can focus on other tasks.
We'll complete the work. After your project is done, you'll receive a detailed report with before and after photos.
"Very Good Customer Service"
"I recently commissioned the painting of a pedestrian walkway along one of the private streets within our bare land condominium community. The crew contacted me prior to doing the work with some questions, and they shared photos with suggested options. We agreed upon some changes to the original plan. It was a very good customer experience and the final product is great! I will definitely contact EverLine for future line painting work in the community."

Ivan R.
EverLine Was Prompt & Professional
"EverLine was excellent to work with. I had new lines and 4 new handicap spaces painted into the 4 visitor parking lots at our condo. The outside parking lots and walkways look new, and our residents are very happy. We had them clean our very large underground parking lot. This large coordination was an actual feat. EverLine was prompt, professional and did an amazing clean up! I would highly recommend this company to anyone."

Tudor Manager
About our Calgary Services
The road marking and asphalt maintenance industry hasn't seen anything like us. We're here to change the game, our skills in road marking is what made us famous. We paint parking lot lines, crosswalks, speed bumps, curbs and more. The extensive training and quality assurance systems ensures that every EverLiner on site completes your project to a high quality standard as efficiently as possible. Have you heard about a revolutionary exclusive product, TBL durables. Traffic paint doesn't last as long as it used to on high-traffic areas but we have the solution.
TBL Durables is an environmentally friendly, non-slip durable plastic that adheres directly to asphalt. It is an alternative that is budget-friendly and will last three times longer than standard traffic paint. We're proud to say that it is exclusive to EverLine Coatings and Services system to better support the needs of our clients and provide thoughtful customized solutions.

We also complete specialized interior coatings such as durable interior warehouse line paintings that will keep your center safe, organized and efficient.
Let's not forget here at EverLine Coatings and Services we're an overall parking lot and property maintenance contractor. We specialise in completing all types of services that encompasses all of our clients needs. To keep pavement protected and to maximize its life, we apply asphalt sealcoating, crack filling and pothole repairs as a regimented maintenance program for your property. To keep your property clean we complete power sweeping keeping the parking lot free of dirt and debris. Our fully trained staff and exceptional network of service partners allows us to fulfill any and all parts of your maintenance program.
Phone: (587) 352-4950
Address:
6910 Farrell Rd SE
Calgary, AB T2H 0T1
Contacts:
General Manager – Doug Manson