Power Washing in Abbotsford & Langley
At EverLine Coatings and Services we provide professional, high-quality power washing services to locations throughout Canada. Our highly trained professionals will leave your property looking like new.
About Our Power Washing Services in Abbotsford & Langley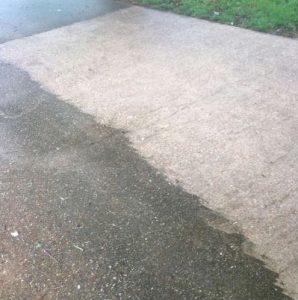 Is your property missing the shine it used to have or is it losing some of its' curb appeal? At EverLine Coatings and Services, we have the solution for you! Our power washing services can return your property to its sparkling state in no time! We only use the highest quality pressure washing equipment on the market and the best highly trained crews. Our crews are experts in power washing all kinds of walkways, driveways, patios, and decks, parking lots, parking garages, and types of buildings (including exterior cleaning services like window cleaning, concrete cleaning, vinyl siding, and more).
Whether it's because of winter that has left your property covered in salt, dirt, grime, stains, or other types of debris, we can confidently get it clean again. All of our crews have years of experience cleaning a wide variety of property types and surfaces removing whatever winter or other elements have left behind. If you want to get your business ready for the season a high-pressure power wash may be just what you need.
Contrary to popular belief, not all power washing services are the same, at EverLine we have an unmovable commitment to quality and delivering end results that are wow-worthy. This is the reason we specifically ensure that we are using the most innovative and efficient equipment available. In fact, one of the characteristics that differentiate EverLine from regular competitors is that all of our crews use hot water power washers. By utilizing the heat in the water we are able to cut through all the grime, mildew, mold, and algae on surfaces more efficiently which in the end will truly make your property shine.
We are the Power Washing Experts
There are two major factors that set us apart from the competition, at EverLine we prioritize in-depth training for all of our crews and we pride ourselves on our years of experience. We make a strong commitment to ensuring that all of our crews are highly trained and provided with the best equipment available. NO matter the property type or surface, we can guarantee that we will revive to look brand new again.
In order to make sure that our crews can provide the most effective power washing service, there are a couple of steps you can take prior to our crew's arrival. Firstly, please ensure that the water at your property is turned on, after all, it would be difficult to do any washing without water. Secondly, please clear any obstacles or larger pieces of debris from the area we will be cleaning.
Here at EverLine Coatings and Services, we place huge importance on ensuring every single customer we work with receives the best value on their power washing services. It is because of this importance that we do not offer flat-rate pricing, instead, we customize our pricing on a per-job basis. We understand that there are a variety of factors that can affect the pricing of a project, this is why we take the extra time to know the little details of a project before we provide a quote. We make it our mission to ensure that our customers have complete satisfaction when it comes to their power washing needs. If you would like a quote for your power washing project, please contact us.
Surrounding Communities Serviced
Langley
Abbotsford
Chilliwack
Mission
Clearbrook
Mill Lake
Pitt Meadows
Atchelitz