Interior Line Painting in Abbotsford & Langley
Our interior line painting services help businesses maintain safety and efficiency in their warehouses and production facilities across Abbotsford, Langley, Chilliwack, Maple Ridge, Mission, Pitt Meadows and the surrounding area.
About our Abbotsford & Langley Interior Line Painting Services
At EverLine Abbotsford & Langley, we are the trusted choice for interior painting services. We have experience completing a wide variety of interior painting projects including parkade lines, safety and production flow floor markings, and warehouse forklift traffic markings. No matter your interior painting project, our teams of highly skilled technical individuals are ready to produce outstanding results for your property.
In order to ensure complete customer satisfaction, we can customize your interior painting project. We'll work with you to select the right materials, match your budget, and fit your schedule to minimize disruptions to your operations. We also operate with a multi-crew approach in which we employ multiple crews, allowing us to complete your painting projects efficiently during the most convenient time for you.
At EverLine, we understand that it is important for property owners and businesses to avoid disruptions to regular operations. That's why we strive to provide the most convenient service possible by offering flexible work schedules. Our skilled workforce can provide our professional painting services throughout the night or during weekends in order to best accommodate the operations of your business.
Additionally, we care about using the highest quality and most affordable products for every paint job we complete. Whether you're looking for a more durable option or a more affordable option, we guarantee the best paint products for your unique needs and application. We have the resources required to provide the highest quality of work at the most reasonable prices.
Our guarantee of quality work is what really sets EverLine apart from the competition. We use a quality system to ensure we are consistently providing the best results and exceeding customer expectations. This allows our clients to maintain involvement in the work we complete and ensure quality work is completed through every step of the process.
We are the Interior Line Painting Experts
When it comes to distribution warehouses and production facilities, line markings are crucial to ensuring the safety of everyone on site. The painting contractors at EverLine have years of experience in completing interior line painting for these facilities, which allows us to offer customized floor marking solutions. We have developed tried and tested techniques to ensure complete satisfaction no matter the project. Let us know your budget, application window, and durability expectations, and we will provide you with a custom line marking solution that will be most beneficial to your business needs. From paint to epoxy and urethanes, we have a range of different products to suit your budget and application. No hassle, just great service.
In order to prepare for your line painting services, there are a few steps you should take before our crews arrive at your facility. Please ensure that your floor is completely free from debris and objects are cleared from the painting surface. If you require assistance, we offer pressure washing and sweeping services to help you prepare for the painting project. Additionally, it is important to notify any building users that a painting service will occur. This ensures a safe working environment for our crews and helps to improve the efficiency of our services. Finally, you will need to wait until the paint dries before allowing anyone to walk or drive in the facility, as this could ruin your painting project.
Interior Line Painting Pricing
From our professional parking lot line painting services to our interior line painting and commercial painting services, all EverLine services are priced on a per-job basis. Depending on the volume, difficulty, traffic, and materials, the prices of our services will fluctuate. This method of pricing allows us to provide the most affordable pricing possible to each of our customers. Don't worry about paying standard pricing. We assess your unique project to determine a great price just for you. Contact us to get a free quote today!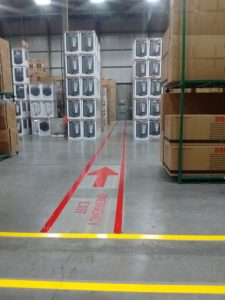 Surrounding Communities Serviced
Langley
Abbotsford
Chilliwack
Mission
Clearbrook
Mill Lake
Pitt Meadows
Atchelitz